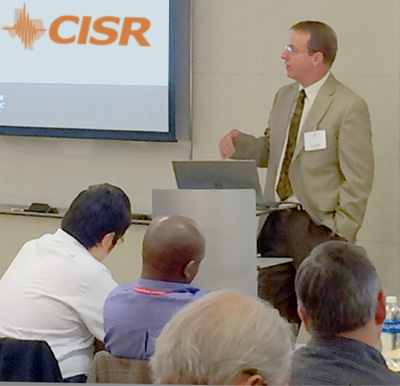 The Center for Integrated Seismicity Research (CISR) recently held its inaugural Program Review Meeting at the offices of ConocoPhillips in Houston. CISR co-principal investigators Peter Hennings and Ellen Rathje hosted the gathering along with the manager of the affiliated Texas Seismological Network (TexNet), Alexandros Savvaidis. TexNet is in the process of deploying and gathering data from a statewide network of earthquake monitors, and CISR will use that data to better characterize Texas seismic activity and its impacts on the state's people and infrastructure.
The heavily-attended Program Review was an important opportunity for CISR partner organizations and research collaborators from around the state to learn about the significant progress made in organizing CISR's massive, multi-institutional research effort, and to see a few of the group's initial research products. Attendees participated in active dialogue around the main research thrusts: seismicity characterizations, fluid budgets and hydrologic modeling, geological characterization and modeling, seismic hazard and risk, and seismic social science. They also received an update on the considerable progress in deploying and collecting data from the expansive TexNet network of seismometers across the state.
For more information, please visit the websites of CISR and TexNet. To become a partner in CISR's groundbreaking research, please contact Peter Hennings.