Texas Flood: How the State is Helping Texans Prepare for, Respond to, and Recover from Floods
December 2, 2016 9:00 AM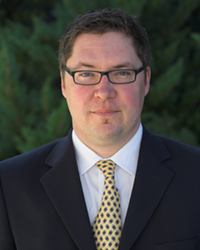 Dr. Robert Mace
Deputy Executive Administrator
Texas Water Development Board
Abstract
Texas is a land of extremes where historic droughts are followed by historic floods. Over the past five years the state has suffered from record drought punctuated by record floods. A heartbreaking, fatal flood in Wimberley in May 2015 followed by flooding in the fall of 2015 prompted the governor to provide the Texas Water Development Board (TWDB) with $6.8 million of emergency funding to address flooding information and infrastructure needs across the state. After meetings with the National Weather Service, the U.S. Geological Survey, and stakeholders, the TWDB created TexasFlood.org which includes a user-friendly flood-data viewer, started a flood-focused weather station network for the state (TexMesonet.org) with the key goal of measuring soil moisture across the state, funded the installation of new flood-hardened stream gages, funded additional modeling for flood predictions, funded flood warning projects across the state, and added reservoir flood information to WaterDataForTexas.org. For future efforts, we have proposed to the legislature that we maintain and enhance the aforementioned activities but also include an infill stream-level monitoring network and developing a state flood plan.


About Robert Mace
Dr. Robert E. Mace is a Deputy Executive Administrator at the Texas Water Development Board and leads the agency's Water Science & Conservation office, a department of 79 scientists, engineers, and specialists dedicated to better understanding groundwater and surface water resources; advancing water conservation and innovative water technologies such as desalination, aquifer storage and recovery, reuse, and rainwater harvesting; and better preparing Texas for floods.

Prior to joining the Texas Water Development Board in 1999, Robert worked for almost nine years at the Bureau of Economic Geology at The University of Texas at Austin as a hydrologist and research scientist. Robert has a B.S. in Geophysics and an M.S. in Hydrology from the New Mexico Institute of Mining and Technology and a Ph.D. in Hydrogeology from The University of Texas at Austin. His residential consumption of water is less than 30 gallons per person per day (and would be lower if his wife was more cooperative).