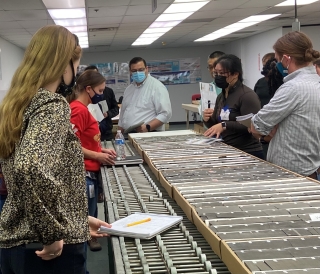 The Mudrock Systems Research Laboratory (MSRL) recently hosted a core workshop at the Bureau of Economic Geology's Houston Research Center. Presenters focused on reservoir characterization in the Delaware Basin of West Texas. In addition to the core workshop, MSRL researchers displayed a number of informative posters.
The MSRL laid out over 1,000 ft of core covering the stratigraphic section from the Wolfcamp XY to the First Bone Spring Sand intervals to compare and contrast siliciclastic-dominated and carbonate-dominated sediment gravity-flow deposits, explore how changes in deposition and diagenesis affect reservoir quality, and discuss tools used to integrate core characterizations with wireline log interpretations. The workshop particularly emphasized using high-resolution, core-based chemofacies to capture thin-bed heterogeneities and link to wireline log correlations, all to better inform practitioners' understanding of depositional systems.
You can find more information about the MSRL research consortium, how to join, and the benefits of membership on the MSRL's Bureau web page and their LinkedIn organizational profile.