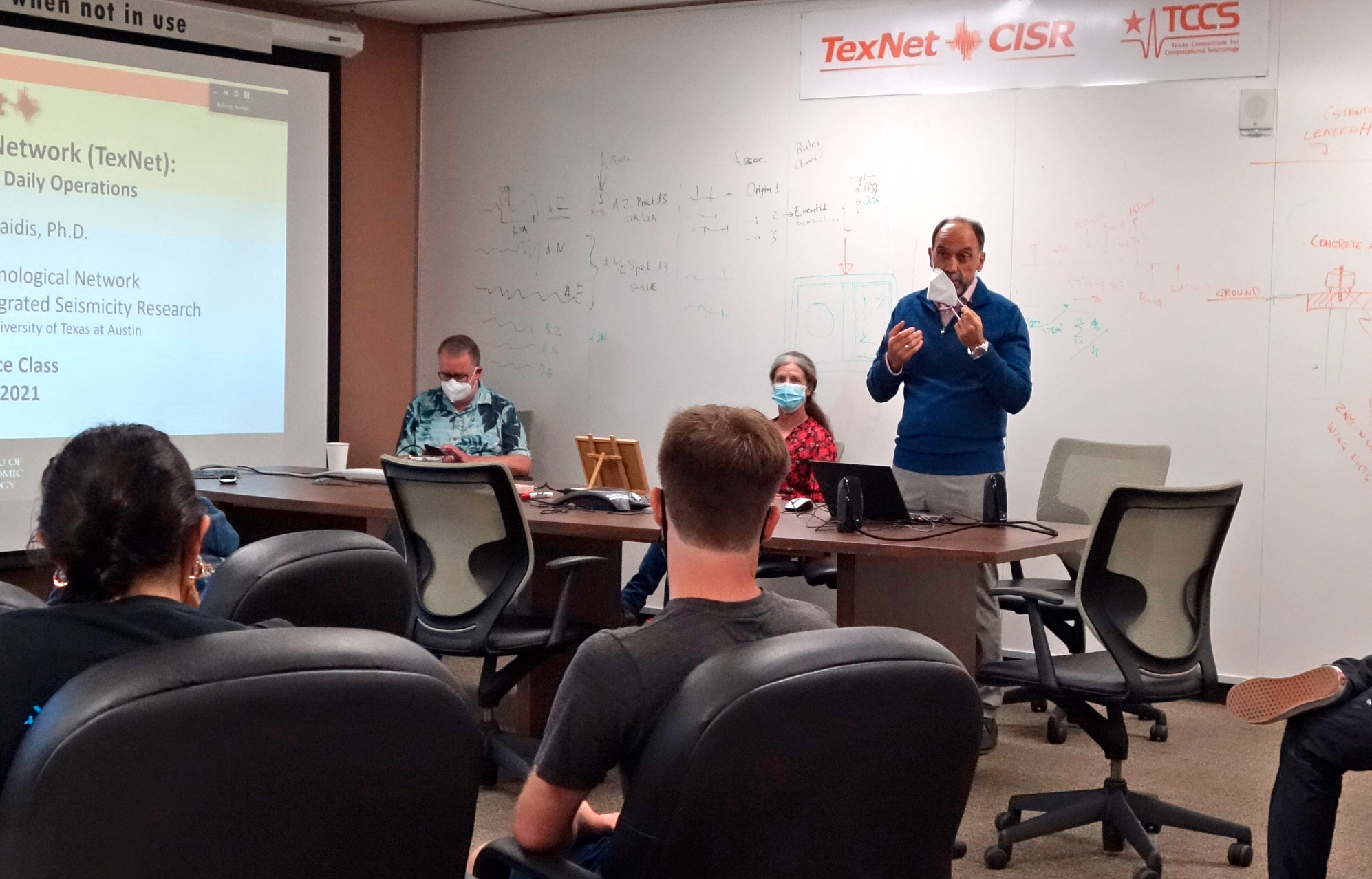 The Bureau of Economic Geology's TexNet statewide earthquake monitoring program recently hosted 15 first-year students enrolled in the UT Jackson School of Geosciences' GEO 401 Physical Geology class. GEO 401 is a course primarily designed for environmental and geological science majors. Dr. David Mohrig, the school's associate dean for research, explained that the visit was part of an ongoing effort to provide these students with informative field experiences and to make this introductory course more interactive.
In 2015, Texas Legislature requested help from the Bureau to detect the location and origins of earthquakes in Texas, and, if possible, help to prevent earthquakes caused by human activity from occurring in the future. In 2017, the TexNet Seismic Monitoring Program began mapping earthquakes via a dynamic webpage, the TexNet Earthquake Catalog.
TexNet's efforts help to keep the public informed on earthquake activity and help to improve earthquake response efforts.
Dr. Alexandros Savvaidis, manager of the TexNet program, welcomed the group and provided a broad overview of seismicity in Texas, the genesis and evolution of TexNet's extensive seismometer network, and its skilled, multidisciplinary team.
TexNet research scientist associate Tricia Martone also provided the class with a report on the improvement over time in TexNet's ability to more precisely determine earthquake location.
The diverse group of freshman left the Bureau with a much better understanding of the recent earthquake activity in the state and TexNet's work to find the causes of these seismic events and to mitigate their impact—an important study for potential future environmental scientists and geoscientists.