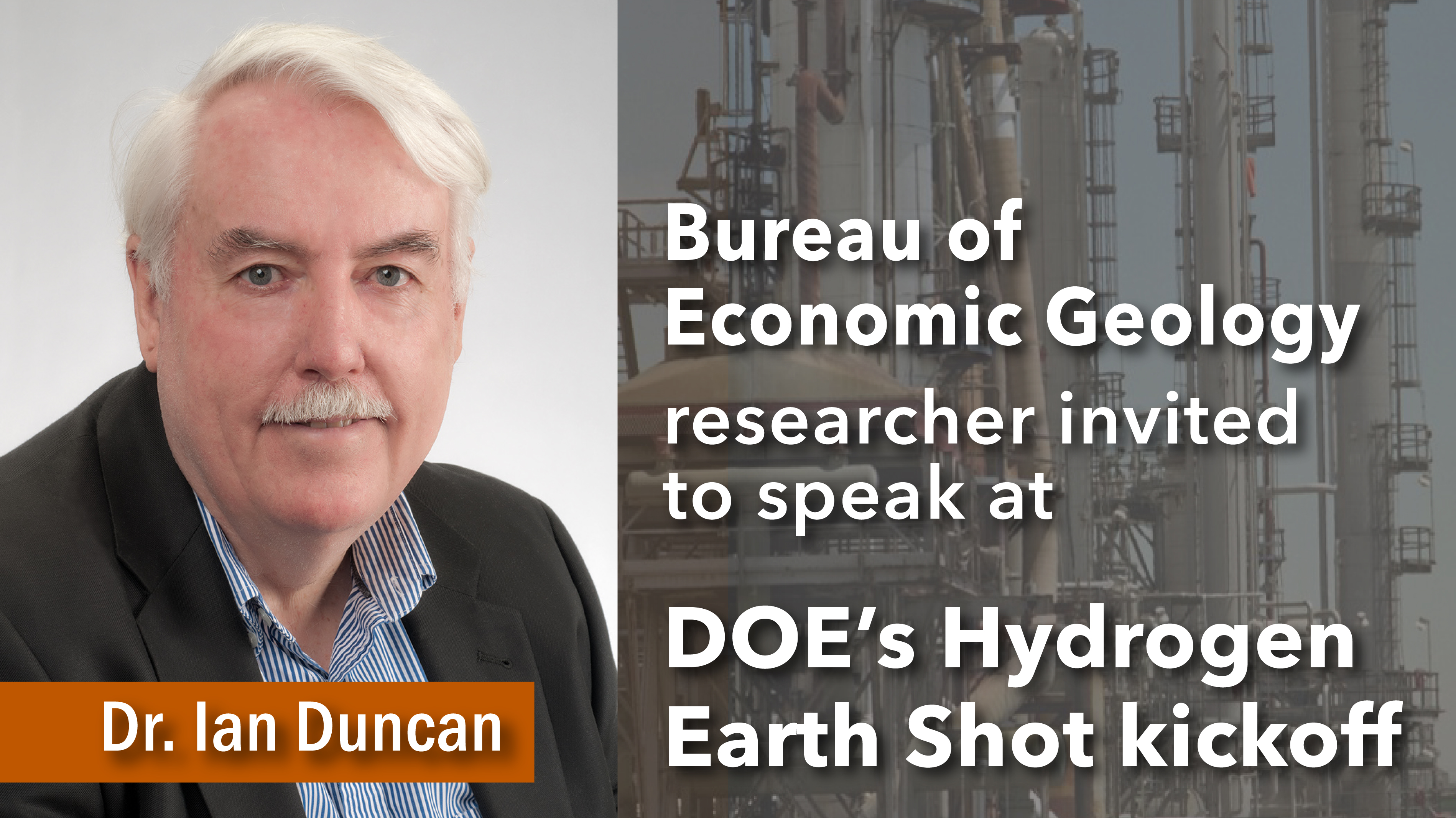 Bureau of Economic Geology researcher Dr. Ian Duncan has been invited to be one of a handful of academic experts to present at the kickoff symposium for the Hydrogen Shot. The kickoff will be held via WebEx on Tuesday, August 31.
U.S. Secretary of Energy Jennifer M. Granholm recently announced the Hydrogen Shot, the first "Energy Earthshot" initiative. The Hydrogen Shot initiative seeks to reduce the cost of clean hydrogen by 80 percent to $1 per kilogram in one decade. The Department of Energy's overall plan is to accelerate the development of "abundant, affordable, and reliable clean energy solutions within the decade." Achieving this will help reach the United States' goal of net-zero carbon emissions by 2050.
Dr. Ian Duncan's research is part of the State of Texas Advanced Resource Recovery (STARR) program's work in support of understanding the possible mitigation of the coming energy transition's effect on the Texas economy. Duncan noted, "approximately half the oil in reservoirs in the US remains in the ground and most will never be produced using current technologies and prices." The STARR program is developing a method to utilize these resources to produce hydrogen that would enable the extraction of decarbonized energy from a source that otherwise would remain unused. This approach would combine an innovative implementation of the established in situ combustion (ISC) technology with carbon dioxide (CO₂) sequestration.
Duncan's team (Dr. Bo Ren, Dr. Frank Male, Robin Dommisse, Dr. Mark Shuster, and Professor Larry Lake) is developing new approaches using high performance computing technologies available through the Texas Advanced Computing Center (TACC) to simulate multiphase flow and thermal effects that are the key to hydrogen production. Their research focuses on using in situ combustion of oil as a heat source. The heat can drive conversion of methane, carbon monoxide, and other gases into hydrogen plus carbon dioxide. Duncan suggested that "these subsurface processes can be used to emulate the industrial processes of gasification and steam reforming" in refineries.
"Our aim," according to Duncan, "is to produce relatively cheap hydrogen while sequestering CO₂ elsewhere in the reservoir complex." He also pointed out "Texas is well-positioned to take advantage of subsurface hydrogen production as it has huge resources of oil (much of it unlikely to be produced), a well-developed oil field infrastructure, and an extensive network of pipelines and rights-of-way."
Hydrogen is becoming a focus of research across The University of Texas at Austin's campus. The Bureau of Economic Geology, in association with two faculty from the Hildebrand Department of Petroleum and Geosystems Engineering, has initiated development of a new research consortium "GeoH₂." The creation of GeoH₂ is in direct response to interest in hydrogen generation and storage from energy companies and gas storage companies, with specific interest varying from oil and gas, pipeline transport, power plants, and electric power producers.