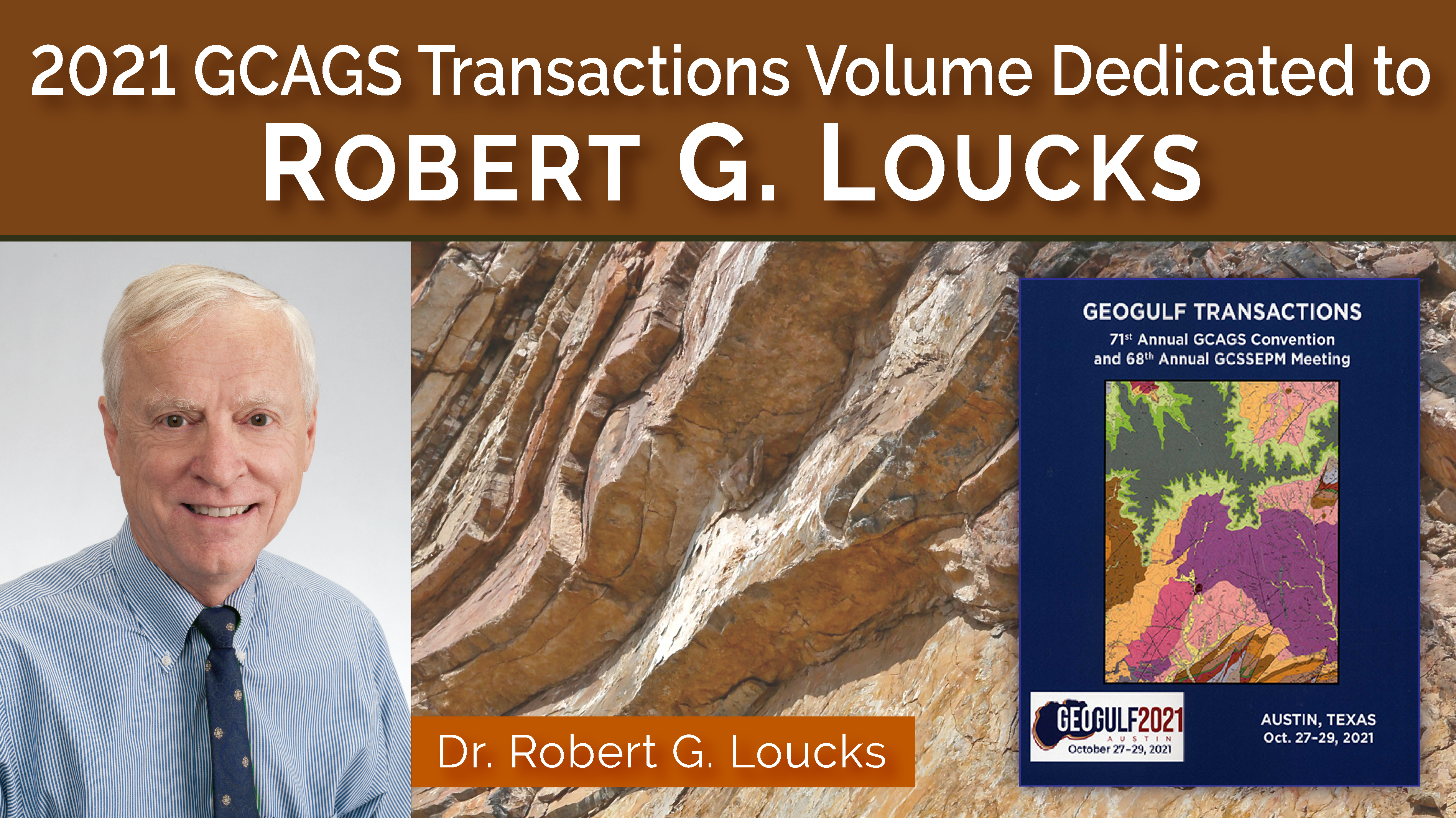 One would be hard-pressed to list a more energetic senior research scientist in the history of the Bureau of Economic Geology, or one with a broader range of publications, leadership service, and individual accolades, than Robert G. Loucks. At the recent GeoGulf2021 conference, Bob Loucks added yet another significant tribute to his work and reputation when it was announced that the 2021 Gulf Coast Association of Geological Societies (GCAGS) Transactions Volume would be dedicated to him by the Austin Geological Society and GCAGS "in recognition of his exceptional contributions to carbonate geology and the Gulf Coast geological community."
No one was more surprised by the announcement of this honor than Dr. Loucks himself! Despite his best efforts to determine why colleagues urged him to attend the conference awards ceremony, Bob was totally surprised when his name was called, no doubt an unexpected thrill.
Robert Loucks began his professional career as a petroleum geologist with Texaco in 1968. After receiving his Ph.D. from The University of Texas at Austin, Bob joined the Bureau of Economic Geology in 1976 where he worked until 1980. Following stints at Mobil, Cities Service and Arco, Loucks returned to the Bureau of Economic Geology in 2000 and has greatly contributed to its research and mission ever since.
Bob Loucks' research has covered a range of geologic subdisciplines over the years, including carbonate deposition and diagenesis, carbonate stratigraphy and sedimentology, sandstone stratigraphy and diagenesis, mudrock geology, pore characterization, karst processes and paleocaves. His service record shows a long history of leadership and advisory contributions, and he has served as a mentor and advisor to dozens of students throughout his career. A prolific author, Dr. Loucks has received the GCAGS Journal Best Paper Award three times, the A. I. Levorsen Award for best paper at GCSSEPM and WTGS twice, and the Wallace E. Pratt Award for best AAPG Bulletin Paper. Additionally, among his honors are the AAPG Bob Berg Outstanding Research Award and the Karst Water Institute Research Award.
Please join all of us at the Bureau of Economic Geology in congratulating distinguished geoscientist Dr. Robert G. Loucks for being recognized with this exceptional tribute!