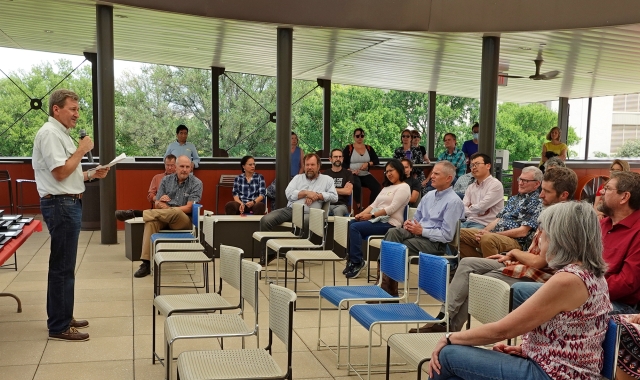 Every year, Bureau of Economic Geology leaders, researchers, and staff convene to celebrate and honor Bureau team members who have served The University of Texas at Austin for 10 years or more and to recognize one staff member who contributed exceptionally to the Bureau's mission of energy, environmental, and economics research over the past year. On the balmy, breezy afternoon of this year's ceremony, the Bureau team gathered on the Chuck Williamson Family Terrace of the Bureau's Austin Core Research Facility for the 2022 Staff Service Awards.
After Bureau Director Scott Tinker delivered his thoughtful and humorous opening remarks, he presented staff members with awards to recognize service anniversaries beginning with 10 years and reaching 40 years of contribution to UT Austin's success. Senior Research Scientist Jeffrey Paine received the 40-year award and shared some words of wisdom with everyone in attendance. Melissa Coffman earned the Outstanding Staff Award for her dedicated work as the leader of the Bureau's human resources department over the past year and the preceding few difficult years.
After Dr. Tinker presented the final award, everyone enjoyed a little fellowship with their Bureau colleagues. Senior Grants and Contracts Specialist Gwen Hebert and Research Scientist Associate IV Jun Ge kindly organized and served refreshments for all attendees to enjoy.
The Bureau congratulates Melissa, Jeffrey, and all 2022 Staff Service Award recipients. Thank you for your service!