New Bureau Core Research Facility Formally Dedicated
November 8, 2019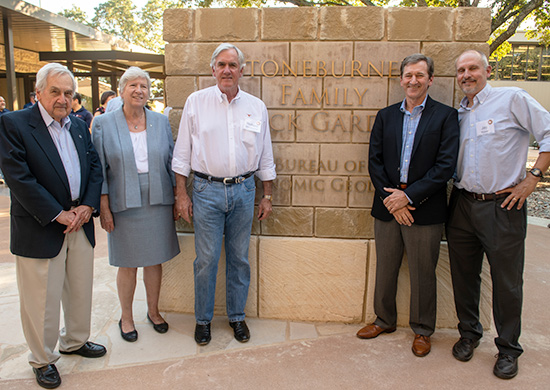 The Bureau of Economic Geology complex at the J. J. Pickle Research Campus of The University of Texas at Austin now boasts a remarkable new Core Research Facility that was recently formally dedicated.
The Core Research Facility features foremost a spacious core-analysis room to be utilized by researchers and students as they unlock the secrets of the Bureau's rocks. The new building includes the specially designed Scanning Electron Microscopy Laboratory and other labs, and overlooks the north entrance to the campus. It is topped by the Chuck Williamson Family Terrace, an airy covered rooftop terrace suitable for all types of gatherings. Adjoining the building is the tree-shaded Stoneburner Family Rock Garden, an elaborate museum-quality exhibit representing the geologic regions of Texas and hosting huge rock specimens from across the state, each with an information station accessible in 11 languages. The building project included the complete renovation of all of the Bureau's 1980's-era laboratories located in the building adjacent to the Core Research Facility, making them state-of-the-art, equipping them for years of future scientific study.
The dedication program was hosted by Bureau Director Scott W. Tinker, who related the story of the genesis of the building project and thanked all involved. Speakers included UT Austin's Jackson School of Geosciences Dean Sharon Mosher, who talked about the importance of the Core Research Facility to the School, and Jackson School Inaugural Dean and Professor Emeritus William Fisher, who provided a unique historical perspective on the Bureau's facilities and core research over time. Richard Stoneburner of Pine Brook Partners, a donor to the project and member of the Bureau's Visiting Committee, shared how important the Bureau's core and cuttings archive and research is to geoscientists. Bureau Associate Director of Operations Jay Kipper, who provided significant input into and oversight of the project, was able to thank many of the people who had taken part in it, and to share some of its more humorous moments. Toby Smith, the project director on the Flintco, LLC, construction effort, also thanked the project team and presented a recently awarded trophy recognizing that the new building won the Associated Builders and Contractors Central Texas Chapter's Excellence in Construction Eagle Award in September 2019.
Following the program, the over 200 guests adjourned to the food and festivities on the rooftop terrace to celebrate the completion of a highly successful project that resulted in the extraordinary Core Research Facility, and to turn the page to the next chapter of the Bureau of Economic Geology's vital energy, environment, and economics research.