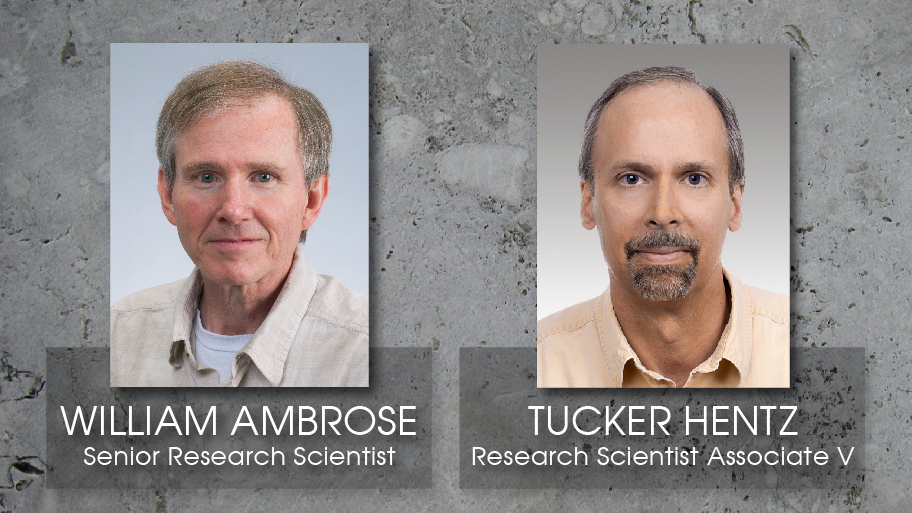 The Bureau of Economic Geology would like to congratulate William "Bill" Ambrose and Tucker Hentz on their recent retirements from the Bureau. They were incredible assets to its research, and added volumes to our knowledge of the geology of Texas. They will be sorely missed.
Bill Ambrose started at the Bureau in 1987 and led the State of Texas Advanced Resource Recovery (STARR) program for many years, overseeing a huge number of field and regional studies across Texas. This research increased oil and gas production for operators large and small, better characterized producing formations over vast areas, and generated millions of dollars in production tax revenue for the state. Bill authored 56 peer-reviewed publications, ten books and reports, and two guidebooks. He earned 20 prestigious awards, including the AAPG's Best Paper Award and its Levorsen Award for best oral presentation. Bill Ambrose was a fixture in the Bureau's core research labs, and tallied all of the core he had studied over the years just before his departure from the Bureau. Bill examined a total of 30,737 feet of core during his years here – that's 1,705 feet longer than Mt. Everest is tall!
Tucker Hentz joined the Bureau of Economic Geology in 1982, and applied his thorough and comprehensive geological analysis to a broad range of research in depositional systems, sequence stratigraphy and petrology. Tucker authored 20 peer-reviewed publications, and prepared a long list of other publications including atlases, guidebooks, databases and maps in Texas and the Gulf of Mexico. He was honored with multiple awards, including AAPG's Wallace E. Pratt Award for best AAPG Bulletin article, and a number of best presentation awards, and he was named a Fellow of the Geological Society of America. His vital contributions to STARR research were extensive and tremendously important.
"Bill Ambrose and Tucker Hentz are synonymous with STARR and the Bureau of Economic Geology," related Mark Shuster, Associate Director of the Bureau's Energy Division. "Both of them have impacted STARR through relevant, high-quality research on the sedimentary geology of Texas. Importantly, they have transferred their results and insights in the form of publications, workshops, presentations, and often one-to-one meetings with geologists, engineers, company owners, and landowners across the state. This is meaningful research that has had direct applications on resource recovery in Texas as well as increasing our understanding of the sedimentary geology. I wish Bill and Tucker all the best on their respective retirements."
Please join all of us at the Bureau in congratulating Bill Ambrose and Tucker Hentz on their retirements, and wishing them well in the next chapters of their lives.