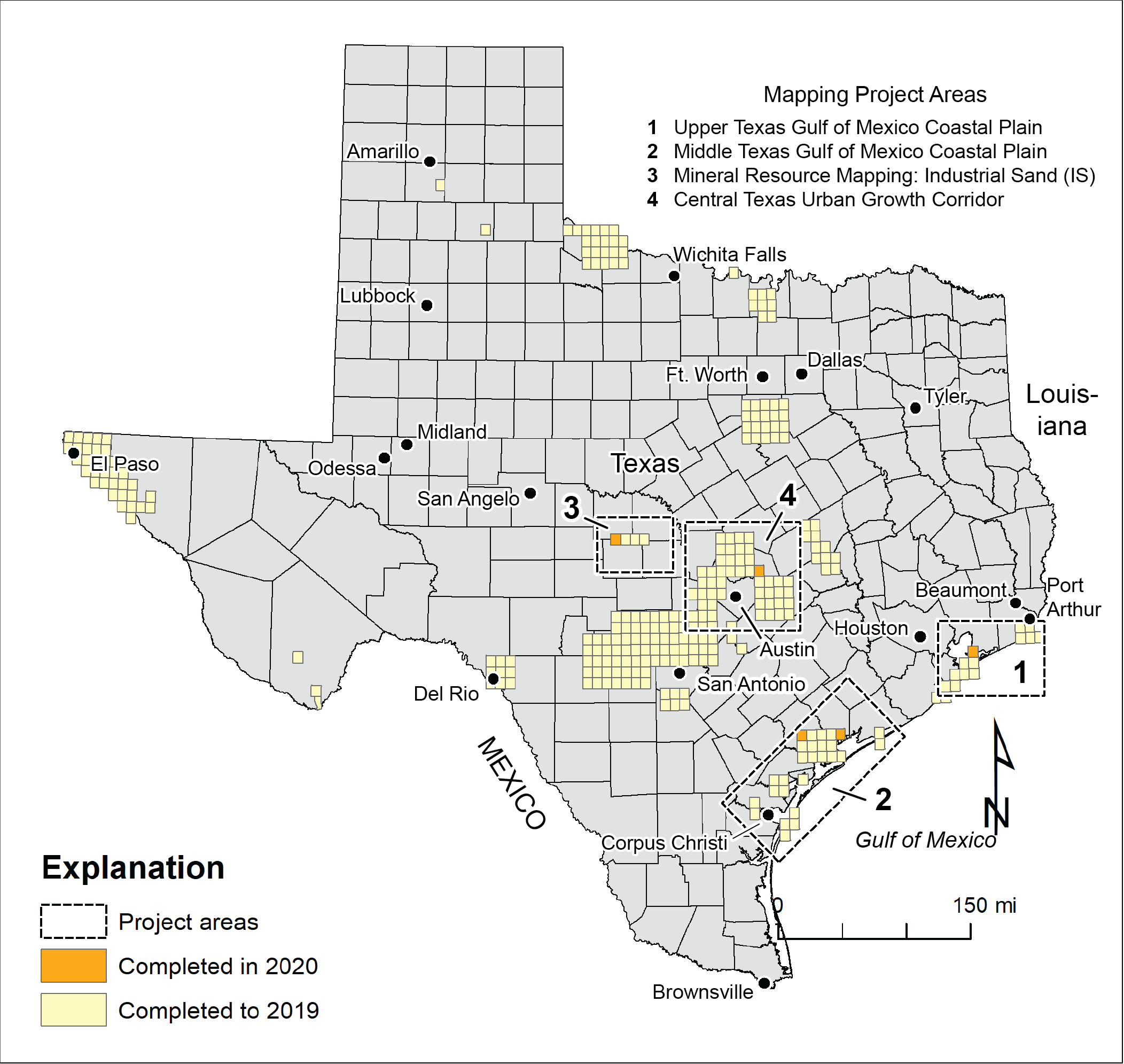 Bureau of Economic Geology researchers, illustrators, and editors have just produced five new geologic maps for the most recent installment in the long-running STATEMAP program. STATEMAP is a core element of the National Cooperative Geologic Mapping Program administered by the U.S. Geological Survey. The Bureau's mapping efforts are also supported by the State of Texas Advanced Resource Recovery (STARR) program and the Jackson School of Geosciences, which provide matches that equal the required federal support for the program.
Since STATEMAP began in 1996, geologic maps of 248 quadrangles have been published in the Bureau's Open-File Maps series, along with several peer-reviewed compilation maps in the Miscellaneous Maps series. All maps are available through The Bureau Store.
This year's five new maps include the Lake Stephenson quadrangle in the Galveston Bay area, the Bloomington and Olivia quadrangles in the Matagorda Bay area, and the Taylor and Katemcy quadrangles in central Texas. The coastal quadrangles document the relationships among geologic units deposited and modified during major sea-level changes during repeated glacial and interglacial cycles of the late Pleistocene and Holocene eras. The central Texas quadrangles focus on sand resources for industrial purposes (Katemcy) and on geologic units relevant to rapidly changing land-use patterns in the central Texas urban growth corridor (Taylor).
Major contributors to the recent mapping effort include Tiffany Caudle, Lucie Costard, Brent Elliott, Jeff Paine, and Chock Woodruff. Bureau graphics and editing staff Jana Robinson, Nancy Cottington, Francine Mastrangelo, Cathy Brown, Jason Suarez, and Amanda Masterson prepared the maps for publication. No story about the Bureau's STATEMAP program would be complete without mentioning Eddie Collins, whose mapping efforts built the program from its inception to his retirement in 2018. Expanded federal support for the STATEMAP program has also enabled the Bureau to recently hire Brian Hunt, an experienced hydrogeologist who will be joining the mapping team to focus on central Texas mapping projects as well as other hydrogeological studies at the Bureau.
Jeff Paine, who serves as principal investigator for the program, notes, "The Bureau's geologic mapping program, of which STATEMAP is the most recent example, has a long and productive history focused on natural resources critical to Texas' people, its environment, and its prosperity."
Read a summary of this year's STATEMAP program.
---