The objective of this regional study of the Wilcox Group and Carrizo Formation is to demonstrate that this stratigraphic succession in southeast Texas contains a greater variability in depositional systems, facies, and reservoir sandstone-body geometry than previously documented. Previous studies interpreted fluvial-dominated, wave-modified deltaic systems from thick (>600-ft [>183-m]), undivided intervals that encompass multiple depositional episodes. In contrast, this study, which integrates wireline-log, core, and outcrop data in a 13,770-mi²-area (~35,660 km²) updip and along the Wilcox shelf margin in southeast Texas, resolves and delineates a variety of net-sandstone geometries in tidally modified delta, wave-dominated shoreline, and inner-shelf systems.
Analysis of more than 2,000 ft (>610 m) of slabbed core in Leon County and outcrops near Bastrop, Texas, provides evidence for tidal processes throughout much of the Wilcox-to-Carrizo stratigraphic succession. Sandy depositional axes in many Wilcox sequences are narrow (<3 mi [<4.8 km]) and exhibit complex, anastomosing geometries consistent with deposits of tidally modified systems. Tidal signatures in the Wilcox Group, Sabinetown and Carrizo Formations occur at a variety of scales—microscale, mesoscale, and macroscale. Microscale tidal signatures in Wilcox cores and outcrops include rhythmically bedded, double-mud-draped ripple stratification and flaser-to-lenticular bedding, and systematically upward-thinning and upward-thickening sets of mud-draped bedforms and laminae. These features are common in Wilcox, Sabinetown, and Carrizo deposits interpreted as tidal-flat, crevasse-splay, marsh/swamp, interdistributary-bay, tidal-inlet, tidal-bar, and distributary-channel paleoenvironments.
Because of variability in depositional systems and sandstone-body geometries in the Wilcox-to-Carrizo stratigraphic succession, both the vertical and lateral complexities of reservoir systems are greater than previously inferred, implying a greater potential for reservoir heterogeneity and compartmentalization. This complexity should be considered in future reservoir development strategies in the Wilcox-to-Carrizo stratigraphic succession.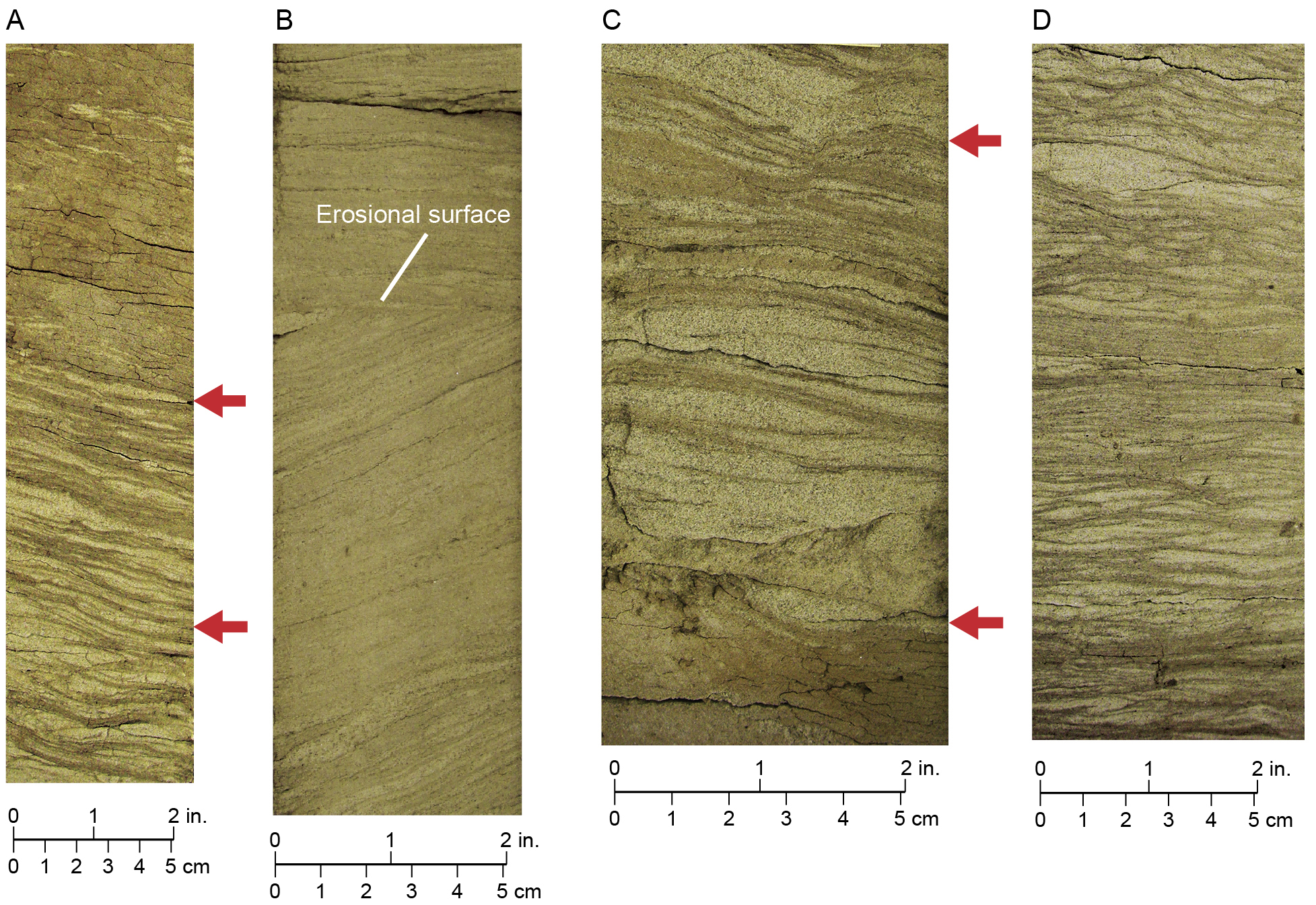 ---
Research Program: STARR-30
Project dates: March 2019–January 2022
Project PI: William Ambrose
Other key personnel: Peter Flaig, Iulia Olariu, and Jinyu Zhang
Principal information contact:
William Ambrose
Email: william.ambrose@beg.utexas.edu
Telephone: (512) 471-0258
Fax: (512) 471-0140
Funding source: State of Texas
Other key partners/collaborators: Chris Denison (Astra Stratigraphics), Thomas Demchuk (RPS Group), and Jennifer O'Keefe (Morehead State University, Kentucky)
Geographic area of study: Southeast Texas Gulf Coast
General disciplines: Sequence stratigraphy, regional depositional systems and facies mapping/interpretation, play framework analysis
Keywords: Wilcox Group, Sabinetown Formation, Carrizo Formation, tidal systems, Gulf Coast Tertiary