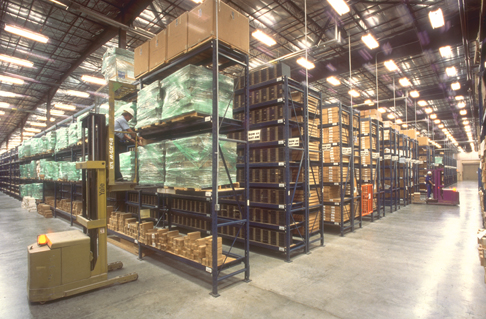 The Austin Core Research Center (CRC), located adjacent to Bureau headquarters, is the Bureau's main core repository for core and rock material donated to the University. More than 700,000 boxes of core and cuttings from wells drilled throughout Texas, the U.S., and the world are available at this facility for public viewing and research. Austin, Houston, and Midland core facilities have combined holdings of nearly 2 million boxes of geologic material.

Searchable Database
The CONTINUUM Geologic Database is a searchable database for all CRC core and well cutting holdings. Some Austin and Midland data are not currently included in CONTINUUM; please contact the CRC main phone line (512-471-0402) if you have any questions regarding this.

Resources and Services
Public facilities include core examination layout rooms and processing rooms for slabbing core. Nominal fees are charged to rent table space and to view core. Other services are available upon request. Comprehensive Austin and Midland CRC inventories are available at no cost in Excel spreadsheet format (contact Nathan Ivicic).
To arrange for core viewings, or for questions about the database, please contact the CRC Staff.
Bureau Sampling Contract - Austin
Nathan Ivicic
Austin CRC Manager
nathan.ivicic@beg.utexas.edu,
512-475-9561

Brandon Williamson
Austin CRC Patron Services Manager
brandon.williamson@beg.utexas.edu
512-471-0402

Rudy Lucero
Core Specialist II
rudy.lucero@beg.utexas.edu
512-475-9561
Contact Information:
Hours:
Monday–Friday, 8:00 a.m. to 5:00 p.m.
Physical Address:
10100 Burnet Road J. J. Pickle Research Campus Building 131 Austin, Texas 78758
Mailing Address:
Box X, University Station Austin, Texas 78713
Telephone:
(512) 471-0402
Fax:
(512) 471-0140