August 23, 2018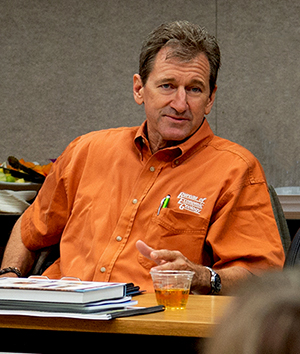 Representatives from Texas state agencies, foundations, and not-for-profit organizations; industry leaders; and major supporters of the Bureau of Economic Geology convened on August 16 for the annual meeting of the Bureau's Visiting Committee.
Director Scott W. Tinker opened the meeting with an update on his pending leave of absence and his planned activities with the Switch Energy Alliance. The Bureau's new Strategic Plan was also discussed, and much of the day's conversation revolved around the use and re-use of water in the State of Texas.
Bureau researchers and directors reported on several major initiatives, including the TexNet earthquake monitoring and mitigation program, the State of Texas Advanced Resource Recovery (STARR) program, ongoing activities to inform the State Legislature about the three initiatives it funds, and the many successful programs of the Bureau's Energy and Environmental divisions.
The Visiting Committee convenes once a year to exchange insights and information during a day of conversation that helps to shape the future direction of Bureau research. The meeting is structured to allow for open discussion and dialogue about new ideas within the space where industry, government, and academia intersect.
For more information about the work of the Bureau or its Visiting Committee, please contact Mark W. Blount, External & Governmental Affairs.