2018 RCRL Annual Fall Meeting
October 21 – 26, 2018
Our 2018 RCRL Annual Fall Sponsors Review and Fieldtrip will be held October 21-26, 2018 at the Bureau of Economic Geology in Austin with the field trip in areas around Del Rio, Texas.
Highlights of the meeting include:
October 21 Core Workshop
October 22 Technical Presentations – Day 1
Ice Breaker and Poster Session
October 23 Technical Presentations – Day 2
Fieldtrip participants drive to Del Rio, TX
October 24 – 26 Fieldtrip days - areas around Del Rio, TX
October 26 Fieldtrip participants drive back to Austin, TX
Please login to the Events page (right) for information for our fall meeting and registration link.
---
The RCRL 2018 Spring Workshop, a series of five daily seminars covering carbonate systems as they relate to reservoir characterization, was held April 16-20, 2018. Each day was set-up as a stand-alone session, allowing our members to attend as many days as they chose. Daily themes included:
Seismic Applications in Carbonate Systems
Basic Carbonates and Core Descriptions; Carbonate Sequence Stratigraphy
Applied Reservoir Characterization in Carbonates
Tight Carbonate Systems
Integrated Seismic and Fracture Characterization in Tight Carbonate Reservoirs
Members can access the presentation materials on the Research Results page in the members section.
---
2017 RCRL Annual Sponsors Meeting Summary
The RCRL Annual Sponsors Meeting was held September 17 - 23, 2017 in Austin, Texas at the Bureau of Economic Geology. The 6-day meeting had four main events including an all-day core workshop, a Monday evening poster session, two days of technical presentations and a three day field trip to the Wolfcampian to Leonardian-age carbonates of the Wylie Mountains and Sierra Diablo Range and high-resolution cycles and sedimentology of the San Andres, Lawyer Canyon areas. In total, 42 members participated in some portions or all of the meeting.
The RCRL Core Workshop covered example for basinal and slope deposits from the Wolfcampian plays in the Midland Basin and The Avalon play in the Delaware Basin. Two Grayburg cores were examined to illustrate stratigraphic evolution and basin-infill history of the Central Basin Platform and Midland. One core from the Early Albian James Margin was used to discuss Lower Cretaceous reef fauna and paleoecology and shelf margin stratigraphy. A core from the Austin Chalks was displayed to illustrate distinct cyclicity independent of relative sea level and another core was used to discuss that facies and stratigraphy of major unconformity between the Woodbine group and the Austin Chalk. Sponsors also received an 84-page Core Workshop Abstract Volume which is available to members of RCRL at the Members Research Results page: http://www.beg.utexas.edu/rcrl/members.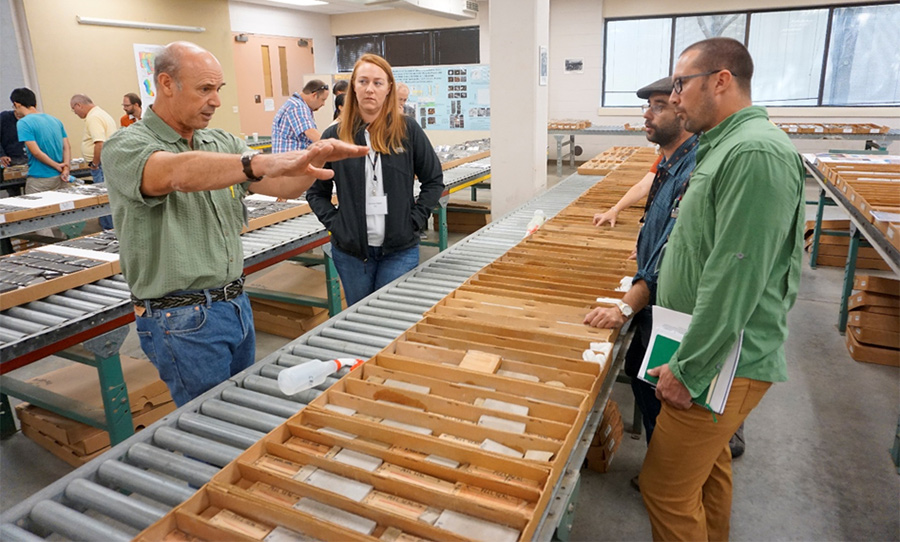 Technical presentations started on Monday, September 18 and highlighted the work of the researchers and students from the past year and varied in scale from continental-scale stratigraphy to micropore systems. On this first day, the topics covered include the Central Basin Platform to Midland Basin shelf to basin stratigraphic architectures, 3D seismic, log and geocellular model integration, and tectonic setting, Pore network of the Avalon Plays in the Delaware Basin. Miocene deep water slope architectures and late stage of the Delaware basin evolution were also presented. The late afternoon and evening on Monday featured 9 technical posters presented at the BEG. Posters included work by RCRL researchers and students as well as collaborative studies involving the RCRL group. This portion of our annual meeting has become very popular as it gives our sponsor a chance to interact on a more personable level with all members of the RCRL group and provides an opportunity to see our high-quality students in action. This opportunity is a unique way for our sponsors to interview potential future work colleagues while providing critical and instructive feedback to improve RCRL research.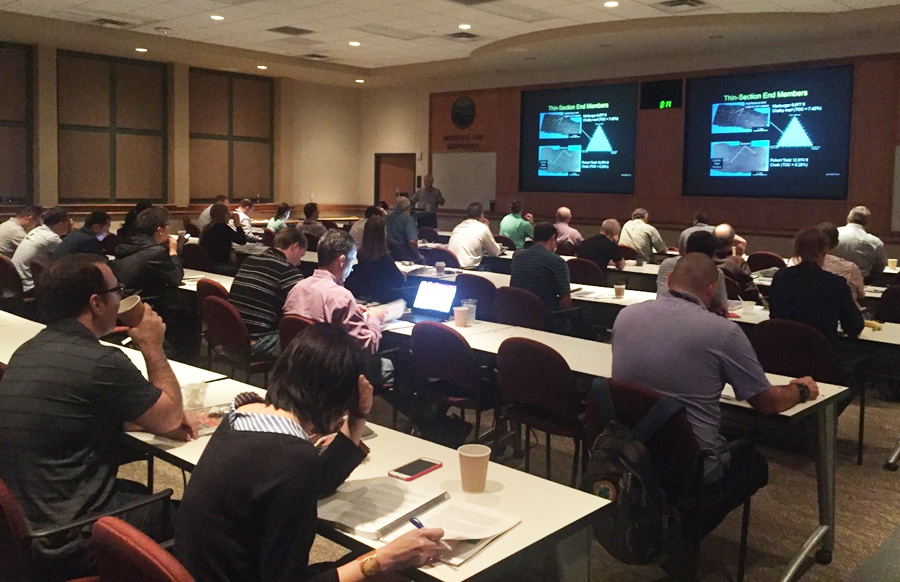 Technical presentations continued on Tuesday, September 19 highlighting cyclicity in the Austin Chalks, regional tectonostratigraphy of the Albian margins around the Gulf of Mexico, updates of the high resolution age contained on the Pleistocene stratigraphic architecture of the Turks and Caicos and diagenetic pattern and pore characterization of Pleistocene ooliths. In the afternoon, several presentations highlight the ongoing RCRL research in fracture characterization and numerical modeling of early deformations in carbonates as well as the influence of basement structure, stress orientation and fractures in the Delaware Basin. Finally, two presentations introducing the topic covered during the field trip were given. All presentations, including the video feed of the speakers are available to members of RCRL at the Members' Research Results page: http://www.beg.utexas.edu/rcrl/members/2017-project-summary.
Following technical presentations, a wrap-up and feedback session was presented in an open forum with several companies providing feedback on what was presented and providing support for future directions that best suited their company's interests. The feedback continues via email or conversations with RCRL researchers for days and weeks after the meeting. These ideas are collected and incorporated into our Research Prospectus and within a brief overview presentation which is coming soon to the RCRL website.
Eighteen members traveled with RCRL researchers and students to Van Horn to visit for the first time the spectacular and unique exposure of syn-tectonic platform interior sections of the Wolfcampian in the Wylie Mountains followed by an overview of the Wolfcampian platform to basin transect on the eastern escarpment of the Sierra Diablo. The final day of the fieldtrip was spent revisiting exposures along the Algerita escarpment to highlight carbonate ramp Reservoir architecture and sedimentology of up-dip grainstone pinchouts.