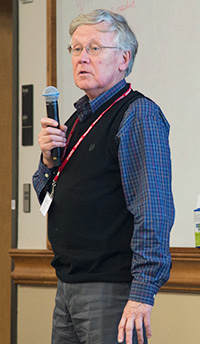 The Mudrock Systems Research Laboratory (MSRL) held its annual meeting for consortium members in early April, hosting more than 60 industry geologists representing 14 companies. Over 4 days, members were treated to 20 oral and 15 poster presentations on the latest research findings in mudrocks. Topics covered a range of subjects, including regional and local stratigraphy, pore systems, petrophysics, hydrocarbon saturation, biomarkers, and flow modeling. A day-long short course provided a more in-depth look at these topics. Core-workshop presentations included cores from the Eagle Ford, Austin, Wolfcamp, and Wolfberry.
Bureau MSRL presenters included Robin Dommisse, Xavier Janson, Farzam Javadpour, Toti Larson, Bob Loucks, Sheng Peng, Rob Reed, Steve Ruppel, Evan Sivil, Xun Sun, and Tongwei Zhang. Guest presenters Jonathan Knapp (Bruker Nano, Inc.) and Connor Burt (FEI–Thermo) described how advances in instrumentation are improving our abilities to better measure mudrock attributes.
Associate Director for Energy Mark Shuster greeted members, discussed the Bureau's diverse program on oil- and gas-systems research, and provided insights into the current state of the industry, funding for research, and the Bureau's role in supporting industry needs.
The success of the meeting was made possible by the tireless behind-the-scenes work of Sammy Jacobo, as well as Cathy Brown and her Bureau Media Group team.