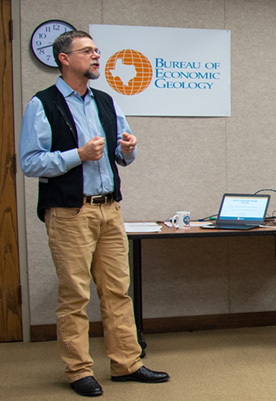 The Bureau hosted the Texas Environmental Education Advisory Committee (TEEAC) Field Day on January 3, in partnership with the Texas Parks and Wildlife Department and the Texas Association for Environmental Education. Attendees, who work in organizations that provide education and outreach to the public, included representatives from the Perot and Witte Museums, the Dallas and San Antonio Zoos, the Lower Colorado River Authority, and Westcave Preserve.
Linda Ruiz McCall, Bureau Information Geologist, opened the meeting by emphasizing how public engagement with environmental educators fulfills part of the Bureau's mission to serve society. Dr. Michael Young, Associate Director of Environmental Research, provided the group with an overview of the broad range of environmental research conducted by Bureau scientists.
Attendees also observed demonstrations to build their understanding of environmental topics such as carbon capture, coastal monitoring, paleoenvironments, and surface water/groundwater interactions. In addition to McCall, presenters included Dr. Susan Hovorka, Senior Research Scientist and principal investigator of the Bureau's Gulf Coast Carbon Center http://www.beg.utexas.edu/index.php/gccc; Dr. Pamela Owens, Associate Director of the Texas Memorial Museum; and Tiffany Caudle, Research Associate and coordinator for the Texas High School Coastal Monitoring Program http://www.beg.utexas.edu/index.php/thscmp. The day ended with a tour of the Austin Core Research Center http://www.beg.utexas.edu/about/facilities/austin-core-research-center led by facility manager Nathan Ivicic. Group feedback on the experience was extremely positive.