The Bureau Hosts Mexican Delegation to Explore Synergies in Energy Exploration
September 7, 2017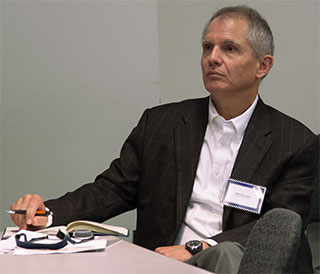 In light of Mexico's energy reforms and the opening of the Mexican energy sector to stimulate oil and gas production, the Bureau of Economic Geology recently cohosted a large delegation from our neighbor to the south for 2 days of discussions. Conducted in conjunction with UT Austin's Department of Petroleum and Geosystems Engineering (PGE), the visit was designed to identify synergies between new exploration initiatives of the Mexican government and its energy industry and the cutting-edge energy research being conducted by the Bureau and PGE.
The delegation from Mexico included representatives from SENER, the country's department of energy; other areas of the Mexican government; universities and research institutes; and its oil and gas industry. Representatives of the Bureau presented research on energy topics including the water–energy nexus, unconventional reservoirs, environmental capabilities and carbon sequestration, Gulf of Mexico off-shore exploration, and the State of Texas Advanced Resource Recovery (STARR) program model supporting smaller Texas producers.
"The Bureau has a very long history of engagement with Mexico's petroleum industry, and our conversations during the delegation's visit were extremely productive," noted Scott Tinker, director of the Bureau. "Our hope is that the meeting generated some novel ideas about how the Bureau and PGE can support new oil and gas exploration in Mexico with the most advanced research currently available."
For more information on research partnerships with Mexico, please contact Scott Tinker.