Bureau Hosts Successful Industry Day 2017
April 6, 2017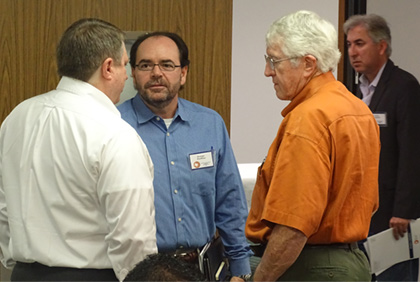 The Bureau of Economic Geology recently hosted a very successful Industry Day 2017 at its Houston Research Center. Over 90 representatives from companies large and small attended the mini-seminar featuring topics of current interest presented by an assortment of the Bureau's top researchers.
Bureau director Scott W. Tinker welcomed Industry Day guests with an overview of the Bureau's major initiatives. He stressed the vital importance and practicality of industry partnerships and of industry support for joint research projects.
Among the presentations were updates on the progress of the Bureau's renowned shale studies, including the Tight Oil Resource Assessment (TORA) project, its newest undertaking to understand the complex oil-producing formations of the Permian Basin. Also featured were a presentation on Bureau research into a novel tool to improve seismic imaging; a progress report on the status of the TexNet earthquake-monitoring network and its research arm, the Center for Integrated Seismicity Research (CISR); and a lunchtime overview of research related to water issues in shale-formation production.
For more information on Industry Day 2017 and the broad energy, environmental, and energy economics research programs of the Bureau, please contact Mark W. Blount.