Project Summary

Researchers from the Bureau of Economic Geology (BEG) acquired lidar data and color infrared (CIR) aerial imagery of South Padre Island and Brazos Island, Texas (Mansfield Channel to Rio Grande) on February 4 and 5, 2013. The data collected has been used to (1) evaluate position and change rates of the shoreline, position of the vegetation line, and dune-crest elevations; (2) map geomorphic units; and (3) provide beach and dune system volume analysis. Data were collected using the BEG's new airborne system (Chiroptera), which collects topographic lidar data, shallow bathymetric lidar data, and high-resolution natural color/color infrared imagery. Topographic data and CIR images were collected for a 500-m swath (three passes) of South Padre Island and Brazos Island (71 km length) landward of the shoreline. Bathymetric data were collected from the shoreline 1000 m seaward. This project is intended to establish the depth-penetration and water-clarity limitations of Chiroptera on the open Gulf of Mexico coast.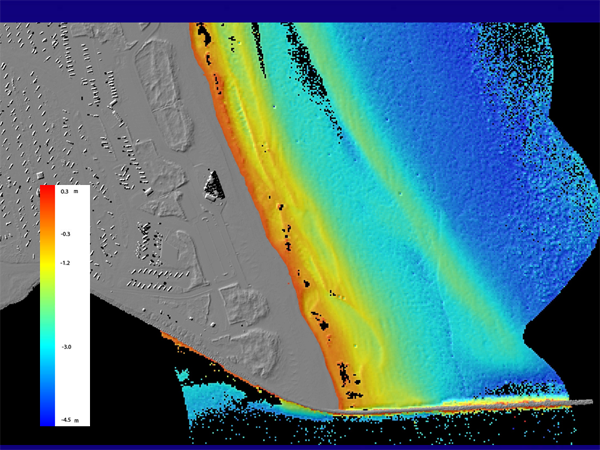 Change Rate Analysis

On average, long-term shoreline change trends are erosional for South Padre Island and Brazos Island. The average rate of shoreline retreat between 1937 and 2013 was 2.2 m/yr (7.2 ft/yr) (Fig. 2). The Gulf shoreline between Mansfield Channel and the Rio Grande is retreating at 84% of the monitoring sites. Areas of advancing shorelines are concentrated adjacent to the jetties at Mansfield Channel and Brazos Santiago Pass. Maximum long-term retreat is found at the mouth of the Rio Grande and in the central portion of South Padre Island. Rates decreased over the last decade (2000 to 2013) to 1.1 m/yr of retreat (76 percent of sites retreating). The trend changed between 2010 and 2013 with 64 percent of monitoring sites advancing at an average distance of 4.9 m.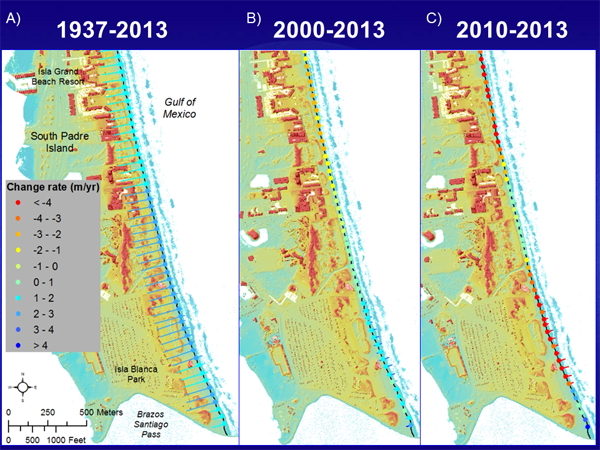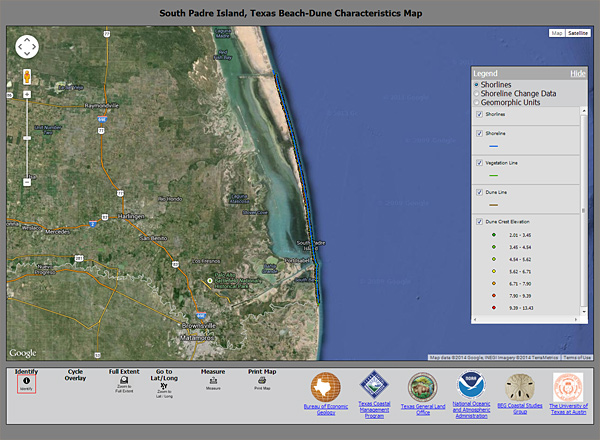 Data Download
2013 GIS files
Presentation