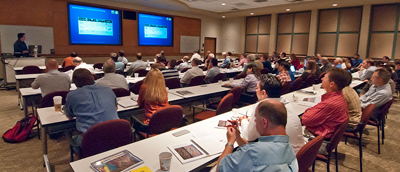 The Reservoir Characterization Research Laboratory (RCRL) held a week-long annual meeting between October 16 and 22. A premeeting field trip to the evaporite karst near Junction, TX, was led by Bob Loucks and Chris Zahm. The following day, a Cretaceous core workshop was taught, culminating in a short field trip to the 360 Outcrops discussed in the workshop, which was led by Ph.D. student Ryan Phelps. On Monday and Tuesday, 28 technical presentations and 3 posters were presented to 65 representatives from 20 companies, and these were streamed live over the RCRL website. Finally, a postmeeting field trip to spectacular exposures of the Cretaceous patch reef near Bisbee, AZ, was led by M.S. student Rachel Aisner, along with Charles Kerans and Chris Zahm.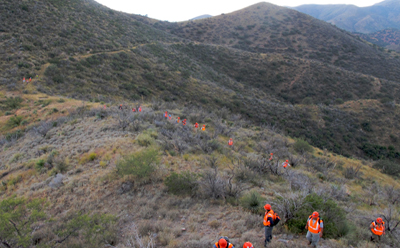 Recent field work for the RCRL group in the Mississippian Madison Formation in Bighorn Canyon Recreation area located on the Montana-Wyoming border. Master's students Travis Kloss and Nabiel Eldam are characterizing a laterally extensive evaporite karst system. Charlie Kerans and Chris Zahm are advising the study which has a component of solution-enhanced fracture pipes (see photo) that allow sediment from younger strata to be funneled into the upper Madison forming a strata-bound karst. Preliminary results from this study will be presented at the RCRL Annual Meeting in October.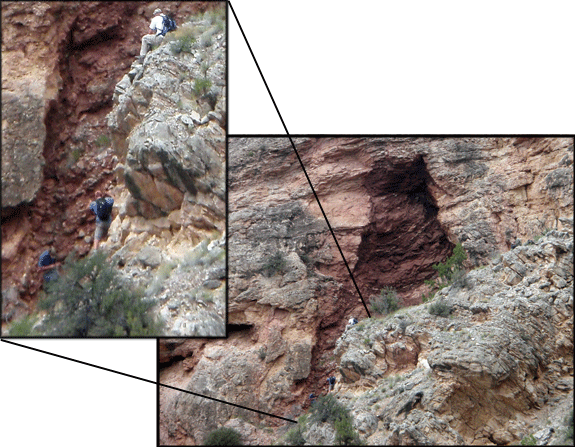 Students Travis Kloss and Eric Anderson describe sediment fill of a large solution-enhanced fracture
(deep red color) under the advisement of Charlie Kerans.

The 2010 RCRL Cretaceous Systems Field Seminar was held on May 15-21, 2010 visiting outcrops localities in central and south Texas. The seminar highlighted themes ranging from sequence-based incorporation of facies variability and integration of fractures and other non-matrix pores within these systems, predictability of fault-related fracture development using integrated sequence stratigraphic concepts, and characterization of both carbonate and evaporate karst. Twenty-one participants from five RCRL member companies (Anadarko, BP, ConocoPhillips, Oxy, and Petrobras) were able to view classic RCRL outcrop localities, primarily of Albian-age carbonates. Field trip leaders were Charles Kerans, Bob Loucks, Chris Zahm, Xavier Janson, Laura Zahm and Ryan Phelps.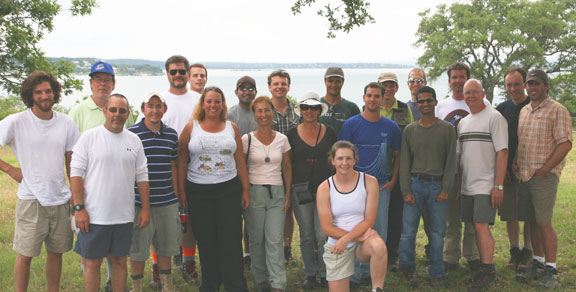 (kneeling first row): Tina Christie (BP), (L to R second row): Michael Poulin (Oxy), Randy Caber (Anadarko), Ferdanda Santo Costa Mourao de Brito (Petrobras), Yeda Backheuser (Petrobras), Rosana Trajano de Faria (Petrobras), Michael Lowsby (Petrobras), Santosh Patil (BP), Ken Sands (ConocoPhillips), Josh Long (ConocoPhillips), (L to R third row): Charlie Harman (RCRL grad student), David Boyer (BP), Mark Swanson (BP), Nishanth Kalyanaraman (Oxy), Marc Olivier Titeux (RCRL post-doc), Rildo Oliveira (Petrobras), Marcelo Blauth (Petrobras), Charlie Angerman (ConocoPhillips), Seth Betterly (ConocoPhillips), Hugh Nicholson (BP), (fourth row): Andrew Hurst (BP). Not pictured Ming Wang (Oxy).

During the week of May 10-14, RCRL and iReservoir taught the first of three workshops on fractured carbonate reservoir modeling to six Petrobras employees. The workshop is part of a training and collaborative research project with Petrobras. Workflows and integrated methods used for this project will be shared with the RCRL members at the October meeting. Instructors for the week included Charles Kerans (RCRL), Mike Uland (iReservoir), Chris Zahm (RCRL), Reinaldo Michelena (iReservoir) and Jerry Lucia (RCRL).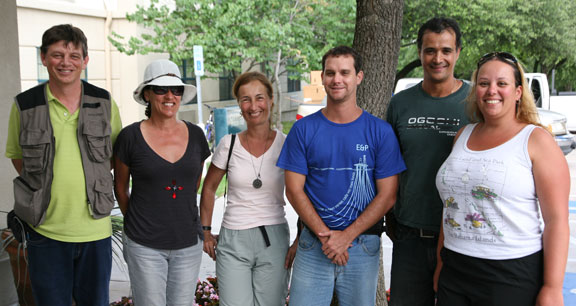 Left to right - Petrobras employees: Marcelo Blauth, Rosana Trajano de Faria, Yeda Backheuser,
Michael Lowsby, Rildo Oliveria, and Ferdanda Santo Costa Mourao de Brito.

| | |
| --- | --- |
| | RCRL is hosting Rildo Oliveira as a Visiting Scientist from Petrobras. Rildo is working with RCRL in Austin for one year as part of an ongoing fractured carbonate reservoir characterization project between Petrobras, RCRL and iReservoir in the Campos Basin. |

| | |
| --- | --- |
| | RCRL welcomes Marc Olivier Titeux who joins us as a post doctoral fellow for 2 years. Marc Olivier's project is a collaborative study between the RCRL and the Petroleum & Geosystems Engineering Department at UT with Dr. Sanjay Srinivasan and Prof. Larry Lake, funded by Aramco. The project investigates new ways to characterize and model subsurface karst systems in 3D. Currently Marc Olivier is working on synthetic collapsing caves to investigate the amount and style of fracture increase associated with such collapses. He received his PhD from the University of Nancy (France) in the Gocad consortium in 2009. |

| | |
| --- | --- |
| | RCRL is please to welcome Joseph El Azzi to our team. Joseph will be working on maintaining and improving our digital outcrop mapping and modeling efforts. Joseph recently finished his MS thesis in the Hueco Moutains under Charlie Keran's supervision. Joseph has been part of RCRL since 2006, beginning as a temporary worker and later returning as a graduate student between 2007 and 2009. |

Between march 27 and March 31, Charlie Kerans led a field trip to the Pecos River for the UT Department of Geological Sciences honor student undergrad program. The 4-day, 45 mile canoe trip allowed students to examine the exceptional Albian exposure. Chris Zahm, Rildo Oliveira and Xavier Janson met them in Lewis Canyon for 2 days during which Chris and Rildo performed several new fracture scan lines along the Albian 18 HST on a greatly exposed fracture pavement. Xavier and Eric Anderson field checked a few of the Lidar interpretations (see photo below) and acquired several acoustic velocity measurements on the outcrop with RCRL's newly acquired outcrop velocity tool.

The UT undergrad honor students prepare to leave ior a full day of canoeing and geology on the Pecos river

Eric Anderson (left) hits the Albian 18 HST grainstone with a triggered hammer while Xavier Janson (right) looks for the recorded wave in the accelerometer (center). This set-up allows measurement of acoustic velocity directly on the outcrop.

Bob Loucks and Chris Zahm embarked on an European tour visiting BP and Shell between February 21 and February 25. They spent 3 days at BP summarizing RCRL research and proposing a workshop on karst reservoir characterization. They then went to The Hague to visit the Shell carbonate research group and presented an overview of the 2009 research and new projects at RCRL.