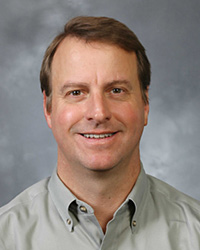 Research Scientist
Bureau of Economic Geology
The University of Texas at Austin
University Station, Box X
Austin, Texas 78713-8924
TECHNICAL and RESEARCH SPECIALTY
Seismic structural interpretation and analysis, reservoir geomechanics, characterization and hydraulic modeling of fractured and compartmentalized reservoirs, fault seal analysis, thrust belt kinematics, induced seismicity, consultation for global exploration and producing projects.
Teaching field and in-house workshops on seismic structural analysis, reservoir geomechanics, petroleum systems analysis, geology of the Laramide Rockies, geology of West Texas.

PRESENT STATUS
PI – Center for Integrated Seismicity Research, Bureau of Economic Geology: research program design and management, coordination of industrial associate program, research in the areas of structural geology, reservoir geomechanics, subsurface characterization and modeling.

Lecturer – University of Texas Department of Geological Sciences: teach seismic structural analysis and service on graduate student commitees.
Consulting Professor – Stanford University Department of Geophysics: collaborative research on geomechanics and triggered/induced seismicity, service on graduate student committees.
Adjunct Professor – University of Wyoming Department of Geology and Geophysics: teach Geomechanics, Seismic Structural Analysis, and Rocky Mountain Geology in alternating years, consult for School of Energy Resources Enhanced Oil Recovery Inst, service on graduate student committees.
Teaching: Organized and taught over 100 field seminars and over 200 classroom courses.
   Current Teaching: Geomechanics on the Rocks, Wyoming (Nautilus); Seismic Structural Analysis (UT Austin, UWY, GSA); Introduction to Petroleum Systems: Sources, Reservoirs, Traps, and Basins of the Laramide Rockies (AAPG, UWY); Thrust Belt Seismic Interpretation, Montana (Nautilus).
Professional Geoscientist, Texas, License Number 3887