STARR Program Generates More Than 8 Times the Rate of Return for the State of Texas
May 21, 2020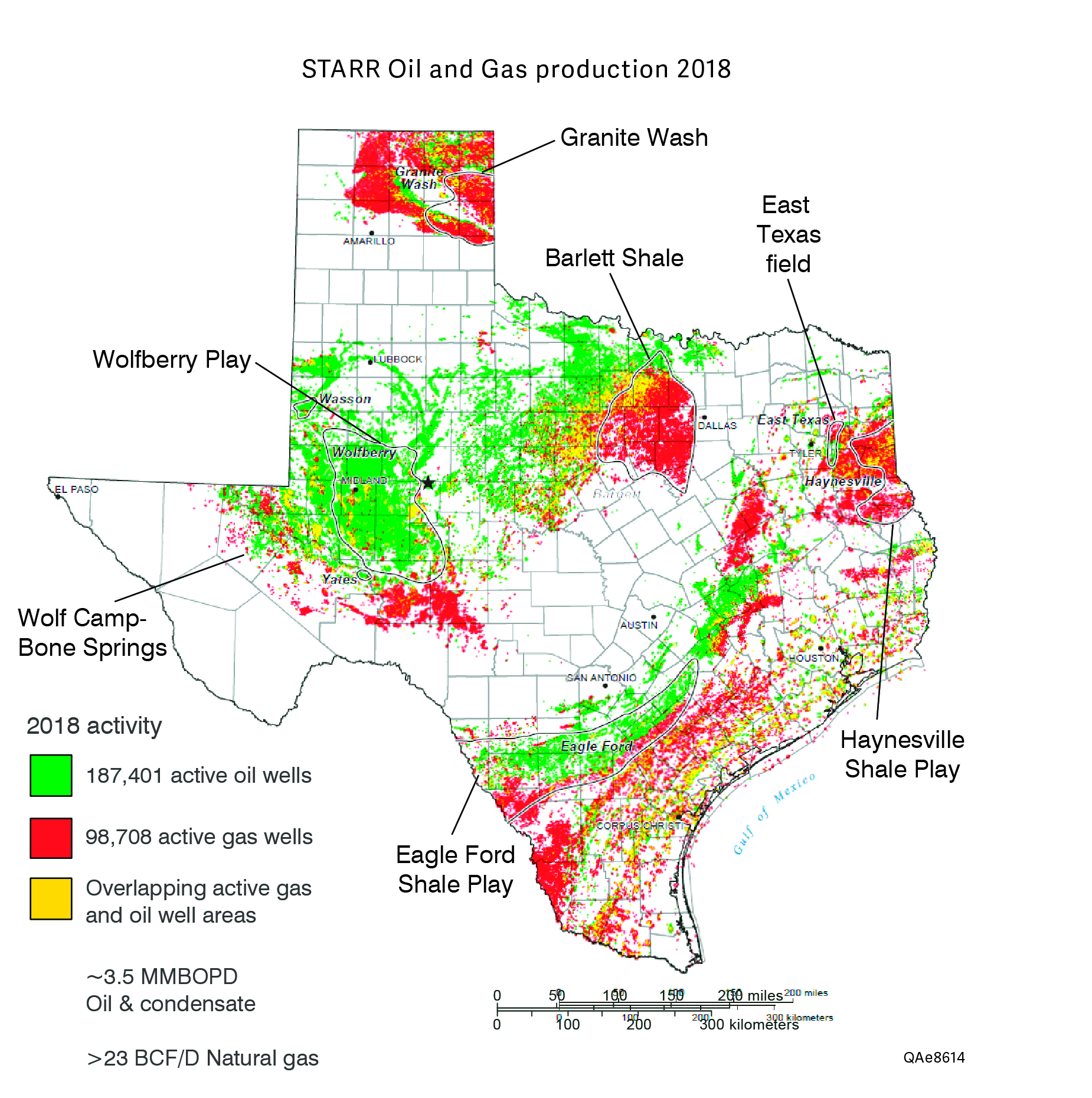 In the first 17 months of the 2018 to 2020 biennium (September 1, 2018 to January 31, 2020), the State of Texas Advanced Resource Recovery (STARR) program has created more than $80 million for the State of Texas in the form of severance taxes. Relative to STARR's total funding of $9.9 million over the current biennium, this figure represents a return of 810%. An interim report to be released in May 2020 will summarize STARR's current research activities and identify 24 field studies and 13 regional studies in which STARR has been involved during this part of the 2018–2020 biennium. Of these studies, 15 are in the Permian Basin.
Texas has produced more oil and natural gas than any other state and was the largest daily producer in 2018 with almost 3.5 MMbbl/d (million barrels per day) of oil and more than 23 Bcf/d (billion cubic feet per day) of gas. No other state or region worldwide has been as heavily explored or drilled for oil and natural gas as Texas. According to the Texas Railroad Commission, approximately 187,400 active oil wells and 98,700 active gas wells were producing oil and natural gas in the state in 2018.
The main objective of the STARR program is to increase severance-tax income for the State of Texas through research projects that promote the drilling of profitable oil and gas wells. The Bureau of Economic Geology receives funds from the State to conduct research that assists oil and gas operators in adding new wells or increasing production from existing wells in Texas. STARR continues to be a tremendous resource for smaller operators, especially in the current low-price environment, in which many cannot afford research staff.
Since 1995, the STARR program has completed more than 70 field studies. The STARR program provides a variety of research products, including core descriptions and interpretations; subsurface lithology maps from wireline-log data; and interpreted cross sections, inversion analyses, stratal-slice maps, and attribute maps from seismic data. These research products help oil and gas operators to define new exploration and production targets in the form of infill wells, recompletions, field extensions, redesigned waterfloods, and enhanced oil recovery opportunities.
To learn more about the STARR program, contact principal investigator William Ambrose.