Texas High School Coastal Monitoring Program
December 20, 2019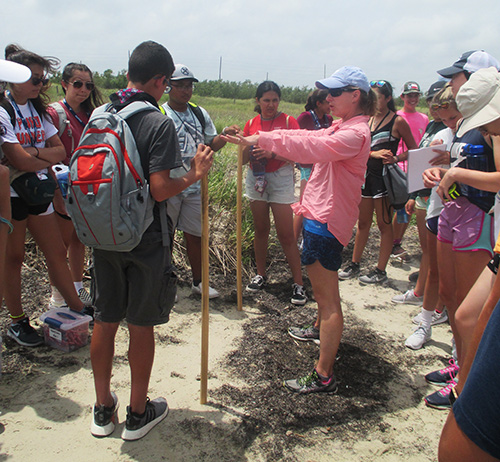 The Texas High School Coastal Monitoring Program (THSCMP) is a research and outreach project that engages student and teachers who live along the Gulf of Mexico in the study of their natural environment. The program is designed to help coastal communities, decision makers, scientists, and coastal managers develop a better understanding of the dune and beach dynamics on the Texas coast. Bureau of Economic Geology researchers work with high school and middle school students and teachers, training them to measure topography, map vegetation lines and shorelines using GPS, and observe weather and wave conditions. As participants in an actual research project, students enhance their science education and provide coastal communities with valuable data on their changing shoreline.
THSCMP is currently in its 23rd year of operation. Participating schools include the following:
Ball High School on Galveston Island (22 years)
Port Isabel High School in South Texas (21 years)
Port Aransas High School on Mustang Island (21 years)
Van Vleck Middle and High School (16 years)
Palacios High School (14 years)
Cunningham Middle School (12 years)
High Island High School (5 years)
Brazosport High School (2 years)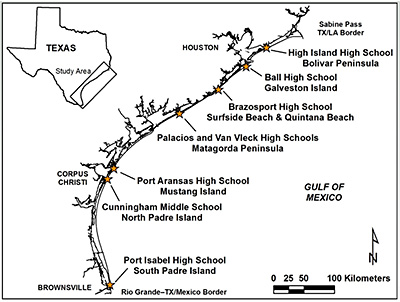 Bureau researchers and students make three field trips per year to survey sites in each region. The THSCMP has created a network of coastal schools conducting scientific studies and sharing their observations with other students, schools, and the public using the Internet. The THSCMP works with a wide range of students: from middle school to high school and from urban to rural. All students actively participate in data collection; students are usually rotated through the data-collection procedures so that at the end of the survey, everyone has had a chance to participate in all aspects of the program. There are always exceptions, of course, but at the end of a trip, students have enjoyed their day spent away from the classroom, learning something new about their environment.
We believe that THSCMP is a unique educational program in that students collect real-world data in a real world setting that are used by working scientists to address coastal issues.  We emphasize to the students that they are working on a real research project and are collecting scientifically valid data that will eventually appear in a scientific publication. This connection to the real world is what makes THSCMP different from many other field trips or laboratory exercises. Students understand that their experiments have real consequences—a realization that improves the quality of the data.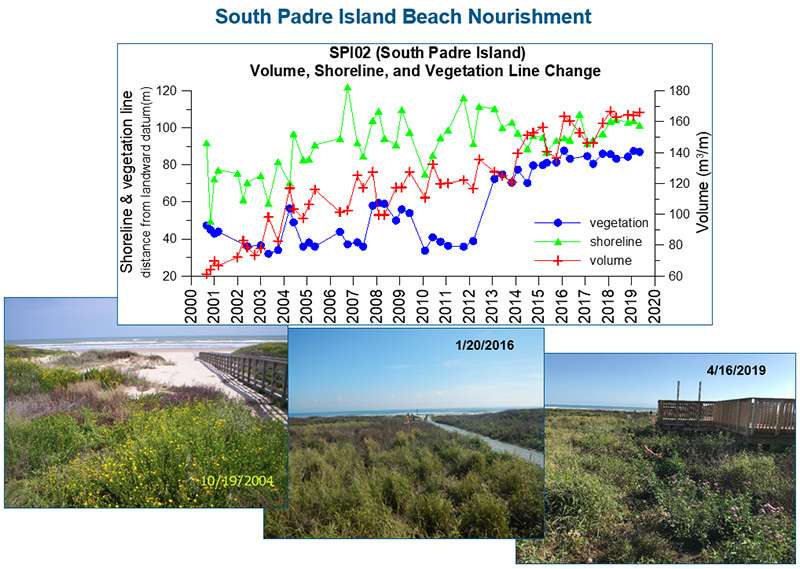 A good example of THSCMP's revealing to students the importance of data collection to their community occurred during the Ball High School (Galveston) field trip on September 19, 2005. Hurricane Rita had formed 1 day earlier and was heading toward the Gulf of Mexico. Initial tracks forecast that the storm would make landfall somewhere on the Texas coast by the following weekend, so all data collected would constitute vital pre-storm conditions. Because this storm was on the heels of Hurricane Katrina, and given that Galveston was hosting many Katrina-displaced families, the Ball High School students were extremely aware of the potential impact of a major hurricane. Teachers and students alike recognized the importance of the data that they were collecting and how the data linked to the beach-profile database.
THSCMP students monitor changes in beaches, dunes, and shoreline and vegetation-line positions on Galveston Island, Matagorda Peninsula, Mustang Island, North Padre Island, and South Padre Island. Since THSCMP began in 1997, data collected by students have been applied by scientists to investigate beach, dune, and vegetation-line recovery following several tropical cyclones, including Hurricane Ike in 2008. Student-collected data are also used to monitor the effects of beach nourishment projects on South Padre, North Padre, and Galveston Islands; foredune changes on Mustang Island due to beach-maintenance practices; geotextile tubes installed on Galveston Island; and jetty construction and vehicular traffic on Matagorda Peninsula. Student data are also used in verifying shoreline positions for updates of long-term shoreline change rates of Texas. Through these real-world examples of scientific observations, students gain a better understanding of environmental issues affecting their communities.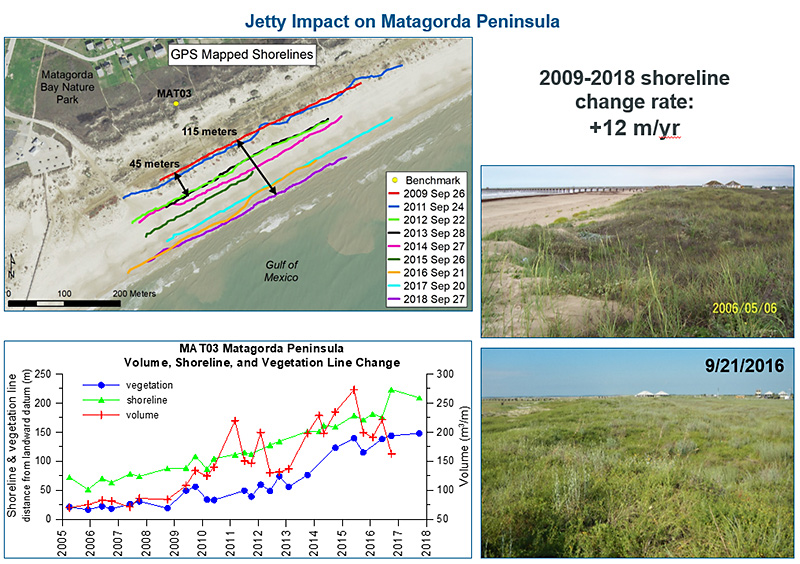 Coastal communities—especially those affected by beach erosion and related public-policy decisions—benefit from this project. Data from this project are accessible through the THSCMP website, project reports, and scientific journal articles. To view the program's lastest annual report, or for more information, please visit the program's website at https://www.beg.utexas.edu/thscmp/.
---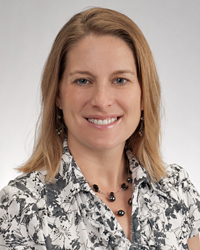 Name of project: Texas High School Coastal Monitoring Program (THSCMP)
Name of research program: Bureau Coastal Research
Date of project start: 1997
Term of project: Ongoing
Project PI: Tiffany Caudle
Other key personnel:
Principal information contact: tiffany.caudle@beg.utexas.edu
Funding source(s): Primary funding from Coastal Management Program grants made available to the State of Texas General Land Office by the U.S. Department of Commerce National Oceanic and Atmospheric Administration. Additional funds to support the project come from the Trull Foundation and the UT Austin Jackson School of Geosciences.
Other key institutional partners and collaborators: Field trip support provided by staff at Matagorda Bay Nature Park (Lower Colorado River Authority) and by graduate students from the Coastal & Marine Geospatial Sciences Lab at the Harte Research Institute, Texas A&M University–Corpus Christi.
Geographic areas of study: Texas coast (Galveston, Follet's, Mustang, North Padre, and South Padre Islands, and Bolivar and Matagorda Peninsulas
General discipline of study: Coastal geology
Keywords: Coastal studies, student monitoring, Texas Gulf Coast, beach profiles, coastal processes, beach, dune