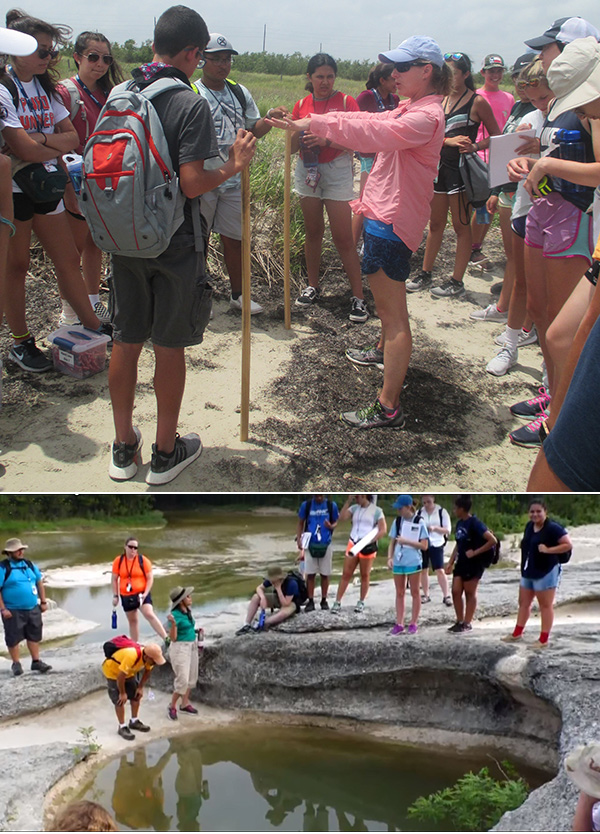 Since its inception in 2005, the GeoFORCE program of UT Austin's Jackson School of Geosciences has taken inner-city Houston and rural southwest Texas high school students on field trips to some of the most magnificent geologic settings in Texas and the United States. The program, founded by former Bureau associate director Doug Ratcliff, seeks to inspire students and encourage careers in the geosciences. Sister program STEMFORCE also seeks to increase the number and diversity of students pursuing STEM (science, technology, engineering, math) degrees and careers, especially in the field of geology.
From the beginning, Bureau researchers have played vital roles as GeoFORCE and STEMFORCE instructors, helping students understand key geoscience concepts by exploring real-world environments. Bureau geophysicist Jeff Paine recently completed his 24th trip to the Pacific Northwest, helping students appreciate the unique geology of places like Crater Lake and the Columbia River Basin. Researcher Tiffany Caudle completed her 18th trip this year, helping 9th-grade students understand the connection between Texas' river systems and its coastal processes. Researcher Peter Flaig, veteran of numerous GeoFORCE excursions, guided students through the extraordinary geology of the Grand Canyon and the American Southwest. Public Information Geologist Linda McCall—who has worked with STEMFORCE for the past 4 years—and researcher Dallas Dunlap helped Central Texas students explore the geology in their own backyard with eight different field experiences, culminating in team-based projects.
Measures of success for GeoFORCE include receiving the 2015 Presidential Award for Excellence in Science, Mathematics, and Engineering Mentoring. Equally noteworthy indicators are the many GeoFORCE students who have chosen careers in the geosciences—more than 50 times the national average—with some former students later returning to guide the GeoFORCE program as coordinators. With the encouragement and expertise of Bureau teachers and mentors, students are inspired to achieve their full academic and personal potential.

Front page image courtesy of Julia Jackson, Shell.