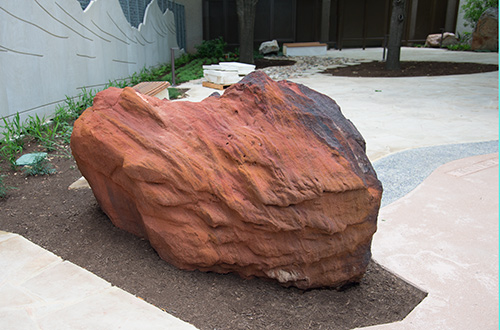 After months of construction, The Stoneburner Family Rock Garden at the Bureau of Economic Geology recently opened to the public. The unique educational and social space lies between the new Core Research Facility and the Bureau's Austin Core Research Center. The 4,000-square-foot Rock Garden is the creation of Associate Director Jay Kipper, research scientist Chris Zahm, core-warehouse supervisor Nathan Ivicic, Director Scott Tinker, and donor Dick Stoneburner.
The garden includes fourteen unique features, including the "Groundwater of Texas" Fountain, the 80-foot-long "Western Face of the Guadalupe Mountains" Wall, the "Rivers Across Texas" Walkway, and 11 select massive rock specimens from across the state. Viewed from above, the Rock Garden aligns with a section of the Bureau's geologic map of Texas, and each rock specimen is located in its relative area of origin.
The distinctive boulders—the heaviest weighing nearly 7 tons—were selected for their diversity of rock type, significance to Texas resources and geologic history, and regional origin. Rock types include excellent examples of Precambrian Red Bluff and Town Mountain Granites, Cambrian Hickory Sandstone, Faulted Ordovician Limestone, Cretaceous carbonate-reef Edwards Limestone, Late Cretaceous columnar basalt, and early Oligocene Sierra Blanca rhyolite. Visitors can hear full audio descriptions in 11 different languages of the history and significance of each rock type and feature by accessing the Bureau's Rock Garden website with the QR code at each feature's location.
The Rock Garden offers a relaxing and educational respite from the Texas sun, with naturally shaded seating for visitors and staff. Visitors can also enjoy the garden environment from the Chuck Williamson Family Terrace overlooking the garden.