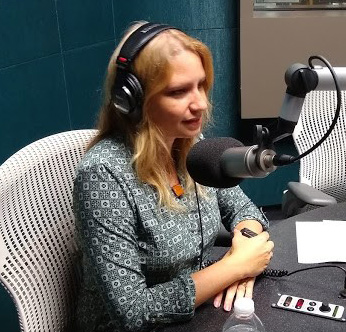 For a world that is – and will be for some time – primarily reliant on carbon-based fuels, efforts to minimize the impact of atmospheric carbon continue to gain momentum. A prime goal of these efforts is carbon neutrality – restoring carbon to the earth in amounts equal to the carbon being produced – which was the topic of discussion on this week's Houston NPR program "'Carbon Neutral Oil' Is Promising, But Far From Guaranteed."
On that program, Vanessa Nuñez-López of the Bureau's Gulf Cast Carbon Center (GCCC) discussed her research in carbon storage, including the realities of enhanced oil recovery (EOR), carbon sequestration, and net carbon negative oil. CO2-based EOR has been employed in oil production for more than 45 years, but it's only recently that the mechanisms necessary to accurately track processes and verify results have been put in place, technologies that the GCCC has been key in developing.
"The carbon balance of the operation varies significantly through time," said Nuñez-López. "For the first several years of operation, all EOR projects produce net carbon negative oil. Meaning that more carbon is stored, than is emitted. But, over time, the net balance shifts. The operation transitions from operating under a negative carbon footprint, to operating under a positive carbon footprint."
Even so, Nuñez-López believes that EOR can be a useful tool in reducing carbon emissions because at the end of the process, the net carbon balance is lower with EOR than without. She also believes that the timing of EOR net emission reductions (the first years, not the last) is of critical importance given the urgent need to abate climate change.
The GCCC has been studying EOR and carbon storage extensively for more than two decades and is a leader in worldwide efforts to develop effective sequestration strategies and technologies. To learn more about GCCC's work, click here. To access the full NPR podcast and related article, click here.