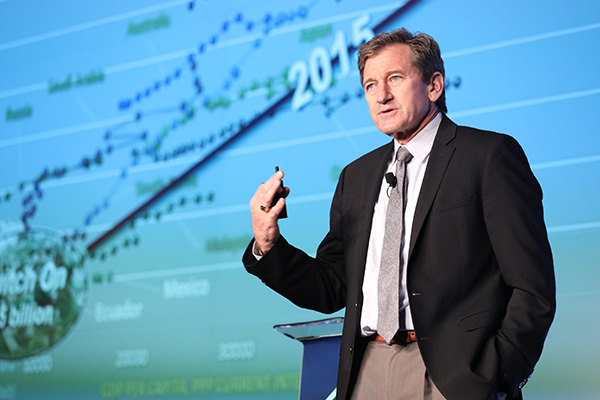 Bureau of Economic Geology director Scott W. Tinker has been tremendously busy over the past 10 months of his leave of absence from the Bureau. In addition to traveling the world to film a new documentary that addresses energy poverty, he also has been raising awareness of the dire global energy-poverty situation via keynote addresses at meetings and conferences to various audiences that include Advanced Placement Environmental Science and National Energy Education Development Project teachers; attendees of the recent Offshore Technology Conference and of the Association of International Petroleum Negotiators Summit; and groups at PricewaterhouseCoopers, Apache Corporation, and BHP. In all, Dr. Tinker has shared his crucial energy ideas through some 40 lectures in the past 10 months to over 9,000 people.
Dr. Tinker's basic message to these groups is straightforward: "The energy transition is often described as the switch from carbon-based fuels to noncarbon fuels. Yet global reserves and production of oil and natural gas continue to grow, even as energy demand continues to increase with population and industrialization. It is not the fuels per se that are the problem, but rather the atmospheric emissions and, more broadly, the impacts of all forms of energy, at scale, on land, water, and local air. And there is more to the energy transition than just environmental impact. One-third of the global population lives in various states of energy poverty. The real energy transition will happen when humans are lifted from energy poverty; environmental impacts to land, water, and local air are reduced; and greenhouse gas emissions peak and roll over. Rather than creating the false political dichotomies of 'good and bad,' 'clean and dirty,' and 'believer and denier,' it is vital that the energy dialogue seek compromise and nonpartisan convergence on workable solutions, which will vary by country and region. The good news is, such solutions exist."
All of us here at the Bureau of Economic Geology congratulate Scott on his diligent efforts to combat energy poverty and look forward to his return to the Bureau this coming fall.