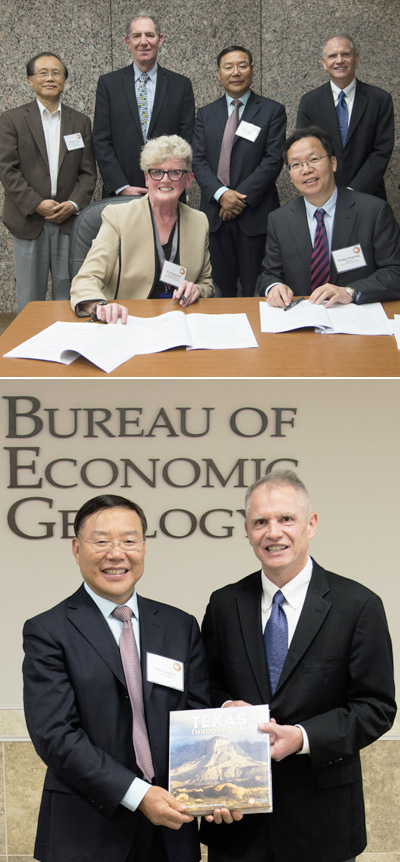 A new Memorandum of Understanding (MOU) between The University of Texas at Austin (UT-Austin) and PetroChina's Research Institute of Petroleum Exploration and Development (RIPED) will expand research opportunities for Bureau of Economic Geology scientists in several key areas. The MOU is another in a series of important research agreements between the Bureau, RIPED, and other PetroChina affiliates, which have collaborated for more than 10 years on multiple studies across China. The MOU reaffirms the strong relationship between the Bureau of Economic Geology and RIPED with the intent to develop new collaborative research.
A RIPED delegation, led by the institute's vice president Longxin Mu, recently visited the Bureau to finalize the MOU, which calls for technical exchange and cooperation in the field of oil and gas exploration and development. Signing the agreement for UT-Austin was Vice President for Research Dan Jaffe. Also signed during the visit was a sponsored research project agreement for Bureau researchers to study marine carbonate seismic sedimentology in the Tarim Basin of China.
The RIPED delegation expressed strong interest in joint future research over the next 5 years and beyond in seismic sedimentology, fine-grained sedimentation in lacustrine basins, carbonate reservoirs, deepwater clastic reservoirs, fractured reservoir simulation, and hydraulic fracturing. Mr. Mu invited the Bureau to send a delegation to Beijing this coming fall to pursue more in-depth discussions. Bureau acting director Mark Shuster also introduced potential future mutual research programs to the delegation for consideration.