Scott Tinker Awarded the 2018 AGI Medal in Memory of Ian Campbell
November 23, 2018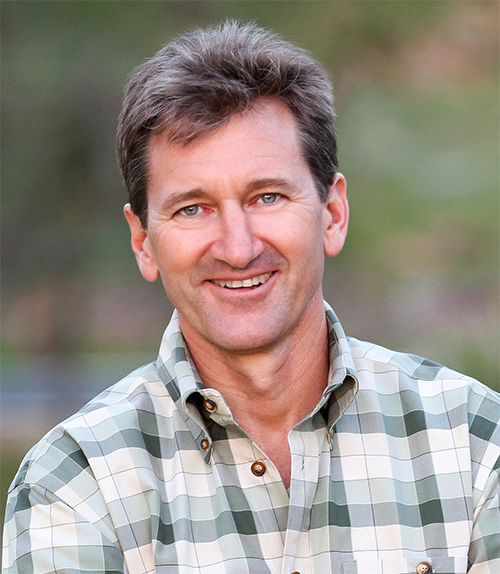 Bureau director Scott W. Tinker is the 2018 recipient of the AGI Medal in Memory of Ian Campbell for Superlative Service to the Geosciences—the American Geosciences Institute's highest award—given "in recognition of singular performance in, and contributions to, the profession of geology."  Candidates for the award are measured against the career and legacy of Dr. Ian Campbell, a renowned geoscientist, educator, administrator, and public servant who exemplified superlative service to the geosciences.
Tinker received the medal at the November Geological Society of America (GSA) Annual Meeting awards ceremony in Indianapolis, where presenters of the award lauded Tinker's "genuine commitment to science; his passion for helping the public and policy makers find solutions to complex energy–environmental–economic problems; and his fair, reasoned, and successful leadership of geoscience organizations." The presenters also noted Tinker's "distinguished career of impressive depth and breadth" that indicate his "service to our profession and to fostering public awareness of the importance of geoscience to society."
Tinker has served as Texas State Geologist and director of UT Austin's 250-person Bureau of Economic Geology since 2000; he is also a professor holding UT's Allday Endowed Chair in Subsurface Geology. He has served as president of the AGI, the Association of American State Geologists, the American Association of Petroleum Geologists, and the Gulf Coast Association of Geological Societies. Tinker is also an AAPG Halbouty Medalist, a GCAGS Boyd Medalist, and a Fellow of the Geological Society of America. In his visits to some 60 countries, he has given 750 keynote and invited lectures. Tinker co-produced and is featured in the award-winning energy documentary film Switch, which has been screened in over 50 countries to more than 15 million viewers. He is currently working on two new films that address global energy poverty and the energy transition.
Said Tinker, "Receiving the Campbell Medal is a great honor. Working to bring academia, government, industry, and NGO's together to tackle major earth science challenges—CCUS, induced seismicity, shale development and resource characterization, subsurface nanosensors, global energy education, sustainable energy development—is not for the faint of heart. My efforts have benefited tremendously from interaction with mentors and friends across all of these sectors. You have been indulgent with my many shortcomings, and I am grateful."