Creating Living Memorials for the Bureau
September 26, 2018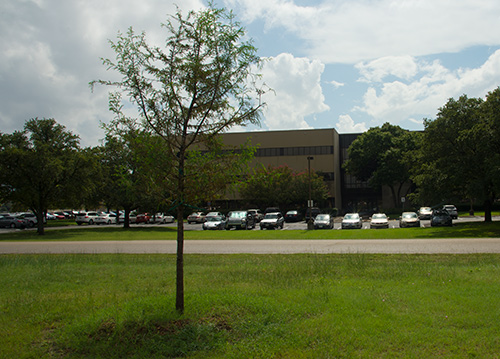 Over the years, Bureau employees have changed the world through scientific research and published results, as well as through the mentoring and support of succeeding generations of geoscientists. Many employees build a legacy during decades-long careers at the Bureau, while others have a significant impact during a shorter tenure. In an effort to recognize the lasting contributions of past employees through a living monument, the Bureau adopted the Memorial Tree Program in 2013. Every year since its inception, donations by Bureau employees have underwritten the planting of a tree in commemoration of employees whose passing occurred or was noted during the year.

This year, the Bureau will pay tribute to five former employees: Leonard F. Brown, Jr., Senior Research Fellow; Milo M. Backus III, Senior Research Scientist and Research Professor; Don G. Bebout, Senior Research Scientist; Robert Louis Folk, Senior Research Scientist; and Doris Jean Tyler, Senior Secretary. Their memorial tree will be planted on Bureau grounds this fall, and a dedication ceremony will take place next spring. The program is administered by The University of Texas at Austin as part of its Memorial Tree Program; an interactive map of the memorial trees can be found here.
In Memoriam: A Remembrance of Bureau Employees
Milo Morlan Backus III, Bureau Senior Research Scientist and Shell Chair Emeritus in the Department of Geological Sciences, passed away May 25, 2018, in Dallas, Texas. Milo had a notable career in geophysics that included two decades in industry and more than two decades at The University of Texas at Austin. In 1959 he published a landmark paper solving a major problem in seismic-reflection prospecting. The paper significantly furthered efforts to convert the geophysics industry from analog to entirely digital recording and processing, and revolutionized the field of Exploration Geophysics. Milo joined the Bureau as a Senior Research Scientist in January 1997 and was closely involved with the Bureau's Exploration Geophysics Laboratory. To read his full memorial, click here.

---

Don Gray Bebout, who passed away on June 16, 2018, worked for the Bureau from 1972 to 1979, and 1982 to 1994. Directing research of carbonates and evaporates, Don played a key role in a geothermal energy studies that lead to the first geopressured geothermal test wells in Texas. His work on carbonates was published in numerous papers on carbonate stratal architecture and depositional systems, the relationship of lithofacies to porosity and reservoir quality, and regional-scale investigations of Lower Cretaceous carbonates in Texas and Mexico. His publications for the Bureau include the Atlas of Major Central and Eastern Gulf Coast Gas Reservoirs and Guide to the Permian Reef Geology Trail, McKittrick Canyon, Guadalupe Mountains National Park, West Texas. To read more about Don, click here.

---

Leonard F. (Frank) Brown, Jr., Professor Emeritus of Geological Sciences and a prominent, internationally known geologist, died December 25, 2016, at the age of 88. Renowned for his seminal contributions in siliciclastic depositional systems, Frank not only formulated the initial concepts but also applied them to seismic stratigraphy, sequence stratigraphy, and coastal studies management. During his five-decade career in geology, with more than 40 years spent at the Bureau, Frank was recognized worldwide for his work as a researcher, consultant, and mentor. Frank also had a faculty appointment at The University of Texas at Austin from 1971 to 1989 and taught at Baylor University from 1960 to 1969. To read his full memorial, click here.

---

Robert Louis Folk, a Senior Research Scientist with the Bureau from 1988 to 1999, was an inspirational teacher and groundbreaking geologist. He formulated the world's first carbonate-rock classification and his "orange book," Petrology of Sedimentary Rocks, was essential reading for geology students. He received the Geological Society of America's highest honor, the Penrose Medal, as well as the Geology Foundation Outstanding Teacher Award and the Carolyn G. and G. Moses Knebel Distinguished Teaching Award, both from The University of Texas at Austin. Memories of Folk were captured in Folk Tales for his 90th birthday; further reading about Folk's honored career can be found here.

---

Doris Jean Tyler, a Senior Secretary at the Bureau from 1979 to 1983, died March 3, 2018. Doris' administrative support was key to the Bureau's research and operations. A woman of many talents and interests, Doris also worked for the Texas House of Representatives and the Texas Higher Education Coordinating Board. Her obituary can be read here.