Staff-Appreciation Cookout
June 29, 2018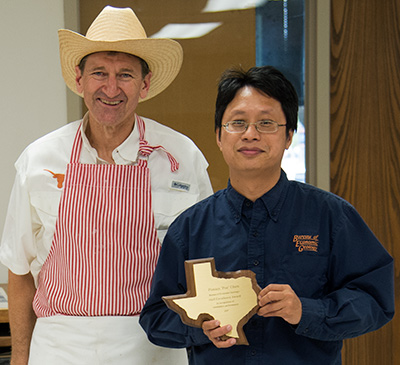 On June 15, Bureau directors and staff celebrated at the annual staff-appreciation cookout. More than 100 Bureau employees turned out to enjoy hotdogs, hamburgers, bratwurst, and veggie burgers grilled and served up by Director Scott Tinker; associate directors Jay Kipper, Michael Young, and Mark Shuster;and manager of External Affairs Mark Blount. They hosted the event to express their gratitude to and applaud the efforts of the Bureau's research, support, and technical staff.
Behind the scenes, Administrative Associate Kim LaValley coordinated the event with assistance from Theresa Caillouet, Dena Miller, Roanne Draker, and Lorri McKim. Numerous others—including Nathan Ivicic, Kenneth Edwards, Bill Molthen, Rudy Lucero, Brandon Williamson, Jana Robinson, Victor Del Carpio Neyra, David Chapman, Jason Suarez, Kyleen Piejko, Daniel Ortuno, Jessica Rowling, and Francine Mastrangelo—contributed to make the event a success from start to finish.
As the staff shared camaraderie and the great food, Dr. Tinker took the opportunity to present the Bureau's Staff Member of the Year Award to Senior IT Manager Poe Chen. Chen received the award for the outstanding effort he and his team have made over the last year to keep the organization's computer operations among the best at UT-Austin through his innovative and customer-oriented leadership.