Bureau hosts officials from China University of Petroleum, Qingdao
June 8, 2018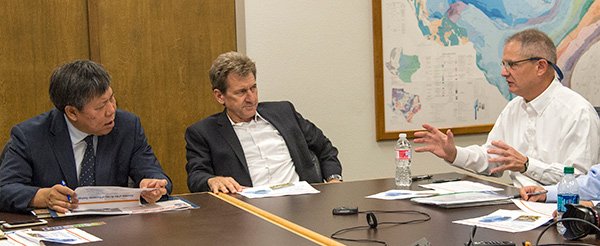 On May 24, the Bureau hosted a contingent of high-ranking officials from the China University of Petroleum in Qingdao (CUP). The University of Texas at Austin (UT Austin) and CUP recently signed a Joint Laboratory Agreement building on a Memorandum of Understanding between the Bureau and CUP Qingdao. The agreement includes potential projects in geologic and seismic characterization of unconventional shale reservoirs, tight oil and gas, characterization of fractured reservoirs, clastic depositional systems, and carbonate depositional systems. The visit was the next step in developing a collaborative framework for future research and scientific and academic exchanges in geosciences between the institutions.
After a tour of the UT Austin main campus, CUP representatives were welcomed to the Bureau on the Pickle Research Campus by Director Scott Tinker and Associate Director (Energy Division) Mark Shuster. The Chinese delegation participated in discussions with invited BEG researchers and students and was given a tour of the Bureau facilities, including the SEM laboratory, core warehouse, and geochemistry lab.

Representing CUP were Professor Fang Hao, President; Professor Ming Zha, Director of the Center for Petroleum Geology and Exploration; Professor Yangwen Pei, Vice Dean of the Geoscience School; Dr. Bin Yuan, Secretary General, North America Young Professionals Association; and Dr. Kai Wang, Deputy Secretary General, North America Young Professionals Association.
"I believe the discussions were very productive in helping lay the groundwork for future efforts," said Shuster. "In addition to adding clarity to our research and academic goals, we also began addressing the protocols and processes, including funding, required to make it all happen."
A group of Bureau researchers, including Shuster, Tongwei Zhang, and Hongliu Zeng, will visit Qingdao in July to continue implementation of the Joint Laboratory Agreement.