June 1, 2018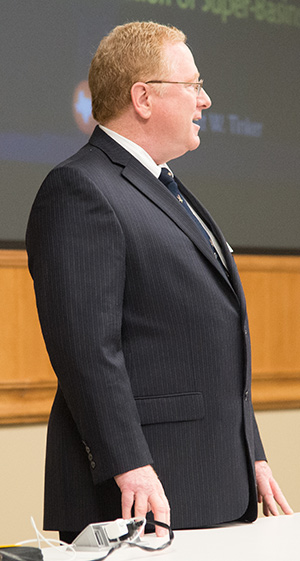 The Bureau of Economic Geology recently hosted a large group of member-organization representatives at the Annual Meeting of the Tight Oil Resource Assessment (TORA) research consortium and announced an important addition to the consortium's research portfolio: a key element of TORA research will now be to continually refresh the Bureau's renowned U.S. shale-play studies.
For many years, the Bureau has been a world leader in the study of production and reserve potential of unconventional reservoirs—specifically, the U.S. Barnett, Haynesville, Fayetteville, and Marcellus shale gas plays, and the Bakken and Eagle Ford shale oil plays. Most of the shale-study research-team members have now transitioned to TORA, using their proven research model to analyze the complex unconventional reservoirs of the Permian Basin (the Midland and Delaware Basins). The research team, under separate funding, had continued to update existing shale-play studies using newly available data and more sophisticated analysis techniques.
Bill Fairhurst, TORA manager, explained that "TORA will continue primary focus and effort on the Midland and Delaware Basins resource-reservoir study." He added, however, that the multiple shale-play evaluations "will allow study and reporting of unique parameters and common characteristics of these resource reservoirs and assist in the economic development and exploration of future economic opportunities." One advantage of bringing both the Permian and the shale studies under the TORA umbrella is that all of the plays will be evaluated by the same team, and new knowledge will be transferred across the studies. Another advantage is that TORA sponsors will gain the perspective of the Midland and Delaware Basins in the framework of all of the other resource-reservoir plays.
TORA Annual Meeting participants also heard informative updates about progress made in characterizing the premier resource reservoirs—the Wolfcamp, Spraberry, and Bone Spring—currently being developed by the industry in the Midland and Delaware Basins. Member representatives were able to add their own insights to these discussions, and to seek specific answers to research questions vital to their organizations.
TORA will continue working diligently to understand these unique and prolific reservoirs and to provide its partners with the latest and most detailed research about them. For information about becoming a member of TORA, please contact Bill Fairhurst.