Bureau Hosts 54th Forum on the Geology of Industrial Minerals
April 20, 2018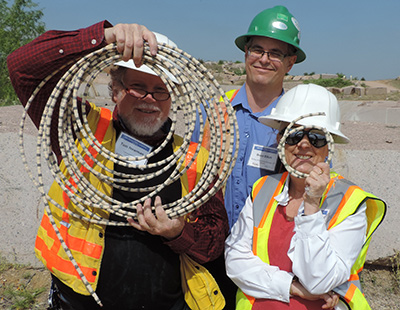 During the week of April 16–20, the Bureau hosted the 54th Forum on the Geology of Industrial Minerals (FGIM). The Bureau's Economic Geologist and event host Brent Elliott welcomed geologists and mining professionals from around the world, who gathered to exchange information and research on geology and industrial minerals. It was the first meeting in Austin since the 4th FGIM in 1968.

Presenters at the forum–more than 20 in all–covered a wide range of topics, including the geology of minerals and energy production, a rockfall hazard-appraisal system, aggregates research, sand mining in the Permian Basin, diamond exploration in Indonesia, and lithium extraction from oilfield brine. Attendees also participated in numerous field trips to sites of geologic and industrial interest that showcased industrial mineral operations in Central Texas, including clay (brick), limestone aggregate and cement, granite dimension stone, and silica frac-sand quarries.

Founded in 1965, the FGIM's primary interest has been the geology of industrial minerals, with an emphasis on promoting the knowledge and organization of mining, mineral processing, regulation, and reclamation through forum meetings, presentations, and field trips. Previous FGIM abstracts and proceedings are archived and available through a variety of geological institutions. For more information, please contact Brent Elliott.