Bureau Presents EarthDate at Science Teacher Conference
December 1, 2017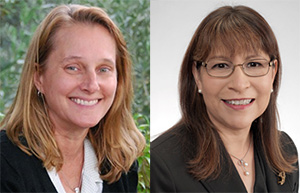 Bureau project manager Juli Hennings and information geologist Linda Ruiz McCall presented information on the Bureau's new radio program EarthDate to K–12 educators at the Conference for the Advancement of Science Teaching (CAST) in Houston on November 9–11. Hosted by the Science Teachers Association of Texas, CAST draws over 5,500 science educators from across the state to provide professional development and resources to advance K–12 science education in Texas.

EarthDate broadcasts, now available on over 300 stations nationally and globally, encourage enthusiasm for earth science through weekly stories that are accessible to a broad audience. Fact sheets for each episode, downloadable from the website, are an ideal supplement to classroom lessons and writing activities.

Research Scientist Associate Beverly DeJarnett of the Bureau and Jason Barrett of the Texas Department of Transportation also distributed hundreds of rock and mineral posters, rock kits, maps, and informational brochures in the CAST Exhibit Hall. American Geosciences Institute Earth Science Week Toolkits, rock kits, and hundreds of page-sized maps were also donated to the Texas Earth Science Teachers Association for distribution to their members statewide.
For additional information about the K–12 educational and outreach resources offered by the Bureau, please contact Linda McCall.