The Bureau Breaks Ground on New Core Research Building
October 11, 2017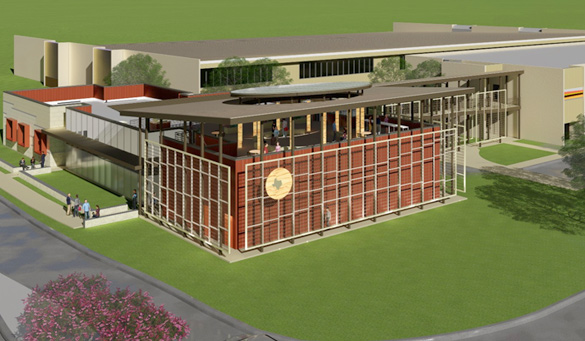 The Bureau of Economic Geology has begun construction on its new core research building, a project that will provide state-of-the-art facilities for scientists conducting research on cuttings and core samples in the Bureau's Austin Core Research Center.

"Everything we do is built on rocks," said Bureau director Scott W. Tinker during a groundbreaking ceremony on October 5. "It's exciting to have this new building to show what we're all about."
The Bureau, which also acts as the State Geological Survey of Texas, has the largest collection of geologic material in the country in its three core repositories in Austin, Houston, and Midland. The three repositories act as a "Library of Congress" for core samples, holding more than 2 million boxes of specimens. These cutting and core samples are fundamental for research in oil and gas, mineral, and geothermal exploration, as well as in hydrogeology and other fields.

Scientific equipment in the new facility will include a scanning electron microscope on a floating slab, a design that prevents vibrations from traffic on nearby roads from interfering with the delicate instrument. The 10,000-sq-ft building will also include a core viewing room exclusively for use by students and Bureau research staff. The new building will help fortify an already impressive core research center, as well as help ensure that the rocks are preserved so that future generations can read their story. The roof of the building will include a terrace for events.

The new core research building, which should be finished by fall 2018, will be located adjacent to the Bureau's headquarters on The University of Texas at Austin J. J. Pickle Research Campus. After the new building's construction, the Bureau will begin major renovations on the building that serves as its current core research center, a project that should take two to four months. The plan is to update 17 labs with state-of-the-art equipment, as well as update the building's interior design. In total, the new building and renovations will cost $10 million and are phase one of a larger project, Tinker said, with phase two including the construction of a Texas rock garden between the old and new buildings.