The Bureau of Economic Geology and Hurricane Harvey
August 30, 2017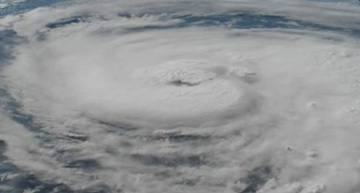 Hurricane Harvey has proven to be the most devastating storm to hit Texas since the great Galveston hurricane of 1900, and Houston has absorbed the brunt of its fury. Thousands of Houstonians have had their homes destroyed, thousands survive in shelters at the time of this writing, and too many of the people of this great city have had their lives changed forever by Harvey's 1,000-year floodwaters.
Houston is the energy capital of the world, and our friends there are many. For over 90 years, the Bureau of Economic Geology has provided research results and untold technical innovation and support for the people of Houston's energy industry. Our hearts are deeply saddened to see the devastation that has rained down on them, and our fondest hope is that our friends and their families are safe. We are truly confident that the can-do spirit of Houston will see them through to fully recover from this unprecedented disaster.
The Bureau has not been spared Harvey's wrath. Our researchers and staff members at the Center for Energy Economics and the Houston Research Center (HRC) have been impacted by the storm in ways that we continue to assess, but all appear to be safe. Fortunately, the HRC facility appears to have experienced only minor flooding. Please contact the HRC if we can provide any help or support, including temporary storage requirements.
We encourage you to consider assisting those affected by Hurricane Harvey by volunteering to help disaster victims or by providing a cash contribution to one of the major disaster-relief organizations currently involved in the relief effort. The thoughts and prayers of all of us at the Bureau of Economic Geology are with our friends and colleagues in the affected areas of Houston and Southeast Texas at this tremendously difficult time.