Hentz, Ambrose, and Hamlin Publish New Report of Investigations on the Midland Basin
July 21, 2017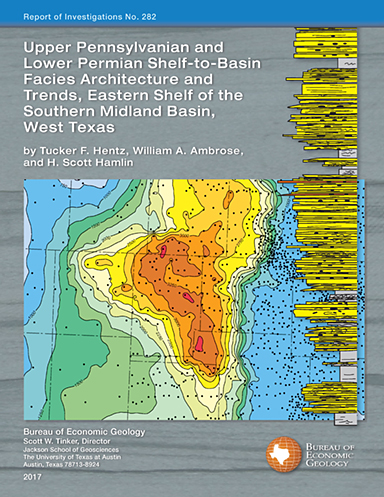 The Bureau is pleased to announce publication of RI0282, "Upper Pennsylvanian and Lower Permian Shelf-to-Basin Facies Architecture and Trends, Eastern Shelf of the Southern Midland Basin, West Texas," by Tucker F. Hentz, William A. Ambrose, and H. Scott Hamlin. The new publication, the latest in the Bureau's Reports of Investigations series, will be of special interest to those seeking detailed knowledge of the eastern Permian Basin. This study is the first comprehensive examination of the depositional framework of the entire southern portion of the Eastern Shelf of the Midland Basin, an area comprising approximately 15,500 square miles in this major West Texas petroleum province.
According to author Hentz, "Our primary objective is to aid future investigations of this large portion of the Permian Basin by both stratigraphers and explorationists. We provide detailed descriptions and interpretations of whole cores representing key depositional intervals; seven regional, shelf-to-basin, fold-out transects of all formation tops within the study area; and a downloadable spreadsheet of the more than 25 Canyon–Cisco formation tops of the 266 transect wells and 2,247 total study wells. This study provides a starting point for those interested either in the detailed stratigraphic context of local oil or gas fields or the facies framework for more regional study."
RI0282 complements the seminal works of Frank Brown and others from the late 1980's and early 1990's (CS0007 [1987] and RI0197 [1990]) that document the regional depositional features of Upper Pennsylvanian and Lower Permian strata of the northern half of the subsurface Eastern Shelf. The study's regional chronostratigraphic synthesis extends these earlier works by documenting the shelf, shelf-edge, slope, and basinal depositional facies characteristics, stratigraphic variations, and sedimentation trends of the productive Missourian Canyon Group and Virgilian–Wolfcampian Cisco Group across the southern Eastern Shelf and, to a lesser extent, the adjacent Midland Basin.
RI0282 is now available in both soft cover and downloadable digital versions, and can be purchased online at The Bureau Store or in the Publication Sales bookstore at the Bureau of Economic Geology.