Nathan Ivicic Earns 2016 Staff Excellence Award
July 14, 2017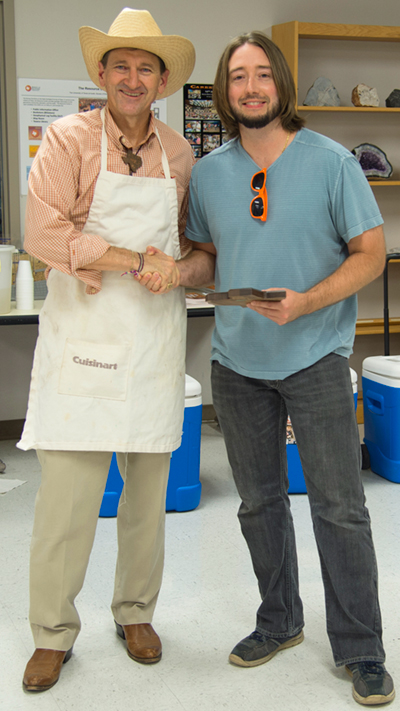 Warehouse Supervisor Nathan Ivicic has been named the recipient of the 2016 Bureau of Economic Geology Staff Excellence Award for his remarkable performance overseeing the maintenance of the organization's vast core and rock material archives at the Austin Core Research Center (CRC) and the Midland Core Research Center. Ivicic's organizational ability, can-do spirit, and service-first attitude were major factors in the unanimous decision by the Bureau's leadership group to nominate him for the award.
"I think Nate has done, and continues to do, a great job managing the core warehouse[s] and addressing the needs of the researchers in accessing core for description, sampling, viewing, and workshops, sometimes with a very short turnaround, as well as keeping the CRC functioning well on a day-to-day basis," said Mark Shuster, Bureau associate director, Energy Division. "All the comments I hear from the researchers about the services he and his team provide are extremely positive. From what I've observed, Nate keeps his team motivated and engaged, as well."
Ivicic, who started working at the Bureau as a student, is now in his 15th year here. "I had no clue [about the Staff Excellence Award]. I was speechless and shell-shocked—it's very humbling," said Ivicic. "The good comments we receive [about the work at the CRC] are largely because of the crew around me— their hard work and the human interaction they have [with customers]."
The Bureau of Economic Geology is somewhat unique for an organized research unit at UT-Austin in that its work is fully supported internally by an incredibly talented staff of about 50 people. The Bureau's staff is accustomed to doing more with less; although the number of researchers, postdocs, and grad students has increased sharply over the years, support staff numbers have remained relatively flat.
Before the Bureau was merged into UT's Jackson School of Geosciences, an annual Staff Excellence Award was instituted to recognize exemplary staff achievement. After being suspended for a time as the Jackson school began bestowing a schoolwide staff excellence award, the Bureau's version of the award was recently reinstated.
Please join all of us here at the Bureau in congratulating 2016 Staff Excellence Award winner Nathan Ivicic for a job well done!