Tinker Plays Key Role at Inaugural African Energy & Technology Conference
January 20, 2017
Bureau Director Scott W. Tinker played a key role at the inaugural Africa Energy and Technology Conference in Nairobi, Kenya, on December 5-7, 2016. The conference was a joint effort of the American Association of Petroleum Geologists (AAPG) and the Society of Petroleum Engineers (SPE), and was underwritten by major African and global energy interests. As a think-tank for Africa's emerging energy industry, the conference recognized the recent surge in onshore and offshore hydrocarbon exploration on the African continent.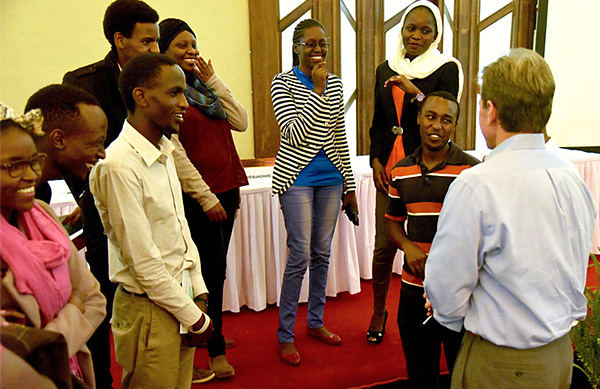 In addition to serving on the conference's executive committee, Tinker participated in the day 1 panel "Executive Plenary Session: Africa in the 21st Century; Frontier Plays and Challenges." This session provided an opportunity for leaders in the energy industry to share their knowledge regarding Africa's energy challenges and to discuss their vision of Africa's energy future, including economics and intra-regional cooperation and sustainability.
On December 6, Tinker presented the film "Switch: Discover the Future of Energy," along with a Q & A session afterward. Released in 2012, the film was directed by Harry Lynch and features Tinker as narrator in a search to discover the world's energy future. Switch has been viewed by millions of people worldwide and is part of a larger educational initiative. The film remains one of the leading apolitical documentaries on the vast and varied changes of the global energy outlook.

On the conference's final day, Tinker presented the luncheon keynote talk, "Energy Security, Energy Poverty, and Peace," a look at the global energy mix, growing energy consumption, and the primary economic and political driving force of energy security. His talk also examined the concept of "energy poverty" and the essential relationship between economic development and access to secure and affordable energy resources.
Tinker's many contributions to the inaugural effort drew the attention of Conference Chairman David Blanchard, who said, "Your contribution was above and beyond the call and made the conference a real success. My greatest pleasure was seeing the look of delight and engagement of the students at movie night. If even a handful went away thinking differently about energy and your film prompted them to ask questions about their role in this adventure, then it was a resounding success."