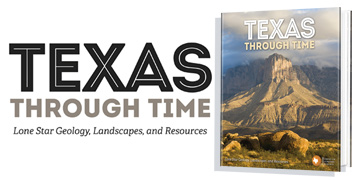 The Bureau of Economic Geology is excited to announce the publication of Texas Through Time, a remarkably in-depth and accessible new book that brings the geology of Texas to life.
Texas Through Time is now available in hardback and paperback through The Bureau Store. To obtain your copy, click here.
Noted geoscientist and author Thomas E. Ewing, with contributions by a range of Bureau geoscientists, guides you in an exploration of the landscapes, rocks, and resources of Texas and 1.7 billion years of Earth history. Visit the ancient rocks of the Llano and Van Horn areas—the legacy of now-eroded Himalaya-type ranges that initially rose over 1 billion years ago. Marvel at the giant West Texas Basin, so prolific in oil and gas, and at the enigmatic Marathon and Ouachita Mountains. Watch North America separate from the supercontinent Pangea and create the enclosed, salt-rich Gulf of Mexico in its wake. Discover the vast carbonate platform that today makes up the Edwards Plateau and Texas Hill Country. And witness the complex story of mountain building, uplift, and delta building that formed today's Texas landscapes. Special chapters consider Texas mineral resources and geologic hazards, as well as the impact of geology on human settlement over the last 15,000 years.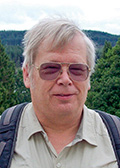 Texas Through Time features over 500 full-color photos, illustrations, and maps, all showing the state's development through geologic "deep time." Of special interest is the unique and informative "Great Places to View Texas Geology" section to help guide you in the field.
Thomas E. Ewing, Ph.D., has been an Earth scientist in Texas for 35 years, first with the Bureau of Economic Geology and later as owner of Frontera Exploration Consultants. He has given numerous talks and led field trips across Texas, and has an extensive list of publications. Dr. Ewing has held offices in the American Association of Petroleum Geologists, as well as in local and regional geology groups, and has received a number of prestigious awards for his service to the field.