Responding to Hurricane Harvey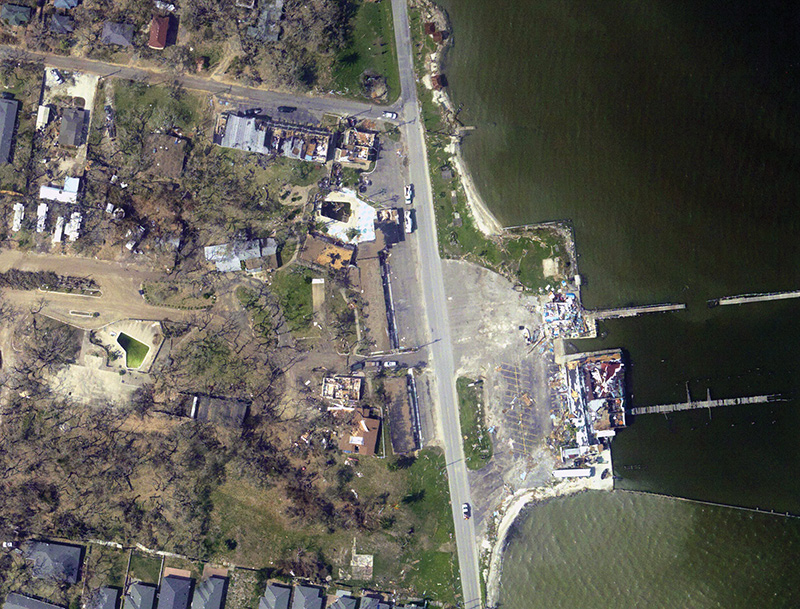 Among the many capabilities of the Bureau of Economic Geology is the vital disaster-response capacity of the Near Surface Observatory (NSO) and its skillful team.
In August, Hurricane Harvey reached Category 4 status, bringing extreme winds, heavy rainfall, massive flooding, and moderate storm surge to the open coast and bays of Texas. Within a week of landfall, researchers at the Near Surface Observatory began acquiring airborne lidar data and imagery to assess storm impacts on the beach and dune system along the Texas Gulf shoreline, identify debris and infrastructure damage in Texas bays, and establish a baseline for monitoring beach and dune recovery in the months and years to come. These surveys were flown as part of the Texas General Land Office (GLO) comprehensive response to the ongoing effects of Hurricane Harvey.
To make data available to emergency responders as quickly as possible, the Bureau team developed an around-the-clock process to make data available to state agencies the day after it was acquired. Aaron Averett flew in the aircraft, handing data off to John Hupp for processing at the end of each flight day. Hupp then passed the data to John Andrews, who created preliminary digital elevation models and georeferenced aerial photographs, all of which were then uploaded to GLO to support its emergency response. Tiffany Caudle served as liaison with the Texas Department of Transportation for aircraft usage and verified data quality and coverage before delivery. Kutalmis Saylam deployed GPS base stations in some of the most storm-ravaged areas on the Central Texas coast. Julie Duiker and her team worked with GLO and UT Austin to ensure contractual requirements were met in record time. Jeffrey G. Paine served as principal investigator.