Using LIDAR in Honduras: Hurricane Mitch
Soon after the Bureau purchased its own LIDAR unit in 2000, the U.S. Geological Survey (USGS) asked the Bureau to participate in an investigation of the impacts of Hurricane Mitch, which struck Central America in November 1998. Honduras was especially hard-hit, and flooding, high winds, and landslides destroyed much of the country's infrastructure. Honduras is currently rebuilding the housing and infrastructure destroyed by the hurricane. To minimize the effects of future storm disasters, the Honduran government needs maps that clearly define areas prone to flooding and landslides.
The joint Bureau-USGS team surveyed 15 municipal areas of Honduras. Maps and surveys that would have been nearly impossible using ground-based methods were accomplished in a few weeks. Although the data are currently being processed, initial results have exceeded expectations. The Bureau feels proud to be playing a small, but critical, role in helping Honduras recover from one of the worst natural disasters in Latin American history.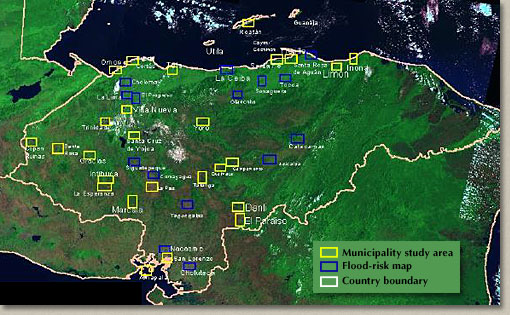 Municipalities under study by the USGS The Bureau conducted airborne LIDAR surveys in those areas slated for flood-risk mapping.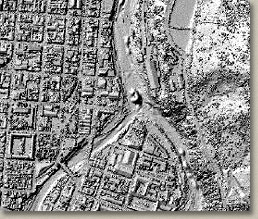 Shaded-relief topographic image of a portion of the Tegucigalpa Digital Elevation Model (DEM).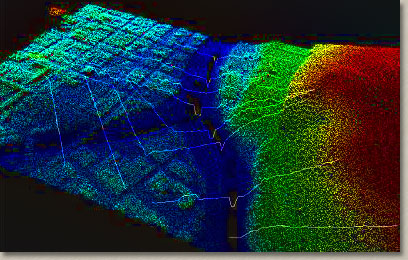 Digital elevation model and extracted river-channel cross sections. Cross sections are input to a surface hydrology model.
Mayan Ruins
In addition to flood hazard mapping, and when the field schedule allowed, Bureau scientists made side trips to Copan to conduct LIDAR and GPS surveys of the Mayan ruins. These LIDAR and GPS data are being used by archeologists to develop a GIS database, a crucial element in the Hondurans' preservation strategy for this renowned archeological treasure.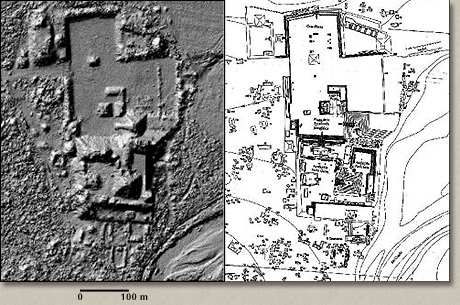 Left is a shaded-relief topographic image of the Copan Ruins. The image is from a digital elevation model constructed using only those LIDAR points that penetrated the vegetation canopy. Right is a plan of the Mayan structures derived from a ground survey conducted by Harvard University.