GREAT PLACE #30
Mineral Wells and Palo Pinto Country
Counties: Palo Pinto and Parker
Landscape Domain: Palo Pinto cuestas
Ecoregion: Cross Timbers/Western Cross Timbers
Why it's a great place
Exposed Pennsylvanian sandstone and limestone ridges; possible record of distant glaciers?
Mineral waters flow from several wells in the city—a historic area attraction
Did you know?
Lake Mineral Wells State Park encompasses 3,282.5 acres and was opened to the public in 1981
Mineral Wells' naturally mineral rich water became popular after the first well drilled in the town was rumored to have cured a slew of ailments, including rheumatism and dementia
The crawl spaces and cliffs of Penitentiary Hollow are said to be named after the cattle thieves who would attempt to hide there before eventually being found and taken to the local penitentiary
Possum Kingdom Lake is located on the main stem of the Brazos River and was created with the construction of the Morris Shepard Dam in 1941
The Palo Pinto country west of the Metroplex is a scenic area unique in Texas. Erosion by the Brazos River and its tributaries has carved a landscape of high relief. A series of cuestas, with steep east slopes and gentle western slopes, run southwest to northeast with valleys between them. The cuestas are underlain by either hard sandstone or limestone; the valleys by shales (marine and nonmarine) with a few coal beds and thin sandstones; all of Pennsylvanian age. The strata dip to the west, so the oldest rocks are exposed in the east and southeast.
The center of the area is Mineral Wells. A well drilled in 1880 was reputed to have curative powers, and the city became a world-renowned health resort for several decades.
View in a larger map
Access
State Park entrance east of Mineral Wells on US 180; Damsite off TX 16 on Red Bluff Road.
Ownership: State Park (Mineral Wells), dam site (Brazos River Authority), Roadcuts
32°49'15.5"N 98°01'37.6"W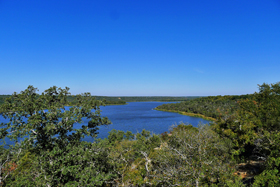 Access level: 1
(Short walk to viewpoint or exposure, less than 0.2 miles; handicapped accessible; may have small steps or curbs)
Mineral Wells State Park includes both banks of Lake Mineral Wells and Rock Creek. On the eastern bank, rugged sandstone cliffs make a popular area for rock climbers at Penitentiary Bend (2.2 miles in from the park entrance; park and walk about 300 feet to an overlook). The cliffs expose fluvial conglomerate and sandstone, with cross-bedding at small and large scales (Bhattacharya 1989, stop 5). Clasts in the conglomerate are white chert and argillite, derived from the Ouachita Mountains that were rising to the east and supplying all this coarse sediment. Plant fragments and bark impressions, indicating a terrestrial environment, have been found. The sandstone sparkles in the sun; a closer look shows that the sparkle comes from small quartz crystals. Apparently quartz cement was deposited around the sand grains (mostly quartz) and formed shiny crystal faces.
This unit contains some of the coarsest sediment in the area; a large stream with high energy would have been required to move and deposit this sediment. The unit lies sharply on top of shale, as can be seen in a low hill just a half-mile east of the center of Mineral Wells. There, about 65 ft of marine shelf mudstone (with brachiopod shells and crinoid stems) is overlain at the crest of the hill (beneath the tower) by 25 feet of coarse pebbly valley-fill sandstone (Bhattacharya 2009, stop 4; Trice and Grayson 1989, stop 4).
How did the rock type transition from marine shelf muds to coarse conglomerate so sharply? Two ways: the conglomeratic valley may be a distributary channel (part of a river within its delta) that has cut into shallow-water sediments, or sea level may have lowered substantially, exposing the marine muds and letting a big stream valley cut into them. Geologists have established that the Pennsylvanian was marked by large-scale sea-level changes caused by continental-scale glaciers forming and melting in Gondwanaland (Africa, Australia, and South America—at that time composing one continent). A glacier forming half a world away may have caused what you see at Mineral Wells.
32°52'14"N 98°25'19"W
Access level: 0
(Car stops; viewpoints or roadcuts; fully accessible; may have curbs)
We've seen a sandstone bluff, but limestone forms many of the large bluffs and cuestas in the Palo Pinto country. The Brazos River was dammed by Morris Shepherd Dam to form Possum Kingdom Lake; magnificent high cliffs of Winchell Limestone are exposed there. (Take Red Bluff Drive west from Texas 16 past the Fish Hatchery to a small picnic area and gate.) These outcrops were described by E.G. Wermund (1975, as reprinted in Erxleben and others, 1989, Stop 5; also Trice and Grayson 1989, Locality 6). The limestones are dominantly mudstones with phylloid algae, but grainstones with echinoderm fragments form bars, channels, and dunes, indicating higher wave or current energy.
Despite the imposing appearance of this carbonate unit, it changes character entirely within ten miles northeast in outcrop or northwest in the subsurface; it becomes mostly a sandstone-shale sequence related to a delta system near Jacksboro. Muds put out by rivers feeding the delta may help to close carbonate deposition; the algae and other carbonate-secreting organisms need clear waters.
To view the Winchell close-up, there are roadcuts on Texas 16 to the north and south; however, pullouts are few, so please be careful!
Texas Parks & Wildlife Department website
J. Bhattacharya, 2009, Pennsylvanian adventures in Palo Pinto County: sedimentology and structure of terrestrial to shallow marine outcrop reservoir analogs, Pennsylvanian Mingus Formation, Mineral Wells, Texas: Field Trip #2 GSA South-Central Section, 43 p.
L.F. Brown Jr., A.W. Cleaves, II, and A.W. Erxleben, 1973, Pennsylvanian depositional systems in north-central Texas: a guide for interpreting terrigenous clastic facies in a cratonic basin: Bureau of Economic Geology Guidebook 14, 122 p.
A.W. Cleaves, II, 1973, Depositional systems of the upper Strawn Group of north-central Texas; in Brown and others, 1973, Pennsylvanian depositional systems in north-central Texas: a guide for interpreting terrigenous clastic facies in a cratonic basin: Bureau of Economic Geology Guidebook 14, 122 p.
A.W. Erxleben, A.W. Cleaves, and T.C. Yancey, 1989, Middle and Upper Pennsylvanian clastic-carbonate facies models, north-central Texas: South Texas Geological Society, Guidebook 89-3, 60 p.
E.L. Trice and R.C. Grayson, Jr., 1988, Middle and Late Pennsylvanian rocks, north-central Texas: in GSA Centennial Field Guide – South Central Section, no. 73, p. 317–322.
E.G. Wermund, 1975, Upper Pennsylvanian limestone banks, north-central Texas: BEG Geological Circular 75-3, 34 p.
Dobbs Valley distributary channel (AI=0): Described in Erxleben and others (1989, Stop 2); 8.6 miles south of Mineral Wells on the east side of US 281. This roadcut shows a fairly thick sandstone channel (a deltaic distributary channel) cut into a mudstone, representing a bay environment. The outcrop is partly covered by trees but is still worth a look.
Ranger Limestone on Texas 16 (AI=0): A spectacular and accessible roadcut lies just west of the junction Texas 16 and Texas 377; it has been described by Erxleben and others (1989, Stop 11). About 80 feet of section is exposed: a mixture of open-marine limestones and intervening shale and thin sandstones. Two Ranger limestones, consisting of limestone mud with some fossil debris and algal mats, are visible. Below and between the limestones lies silty shale and thin-bedded sandstone with ripple marks and some scour-and-fill structures; Erxleben and others suggest a delta-front marine environment. This intimate mixing of sand-shale section (related to nearby deltas building out from the Ouachita Mountains to the east) and open-marine limestone is typical of the Pennyslvanian section.
Mineral Wells Fossil Park (AI=1): A bit of Pennsylvanian marine shale that is open for fossil collection: 2375 Indian Creek Road just northwest of Mineral Wells; Mineral Wells Parks and Recreation Department; www.mineralwellsfossilpark.com