Recent News
August 11, 2022: Congratulations to our M.S. student, Shadya Taleb Restrepo, who was recently selected for the 2022 Research Experience in Carbon Sequestration (RECS) program.  RECS is a leading carbon capture, utilization and storage (CCUS) education and training experience, sponsored by the U.S. Department of Energy, that also serves as an ongoing career network for graduate students and early career professionals in the United States of America.  Attendees receive hands-on experience from world-renowned experts on a range of CCUS topics ranging from science to technology to policy and business. This year, between September 11–20, 2022, attendees will participate in various site tours, live lectures, discussions and group exercises associated with CCUS deployment in Colorado and Wyoming. RECS 2022 attendees will benefit from CCUS experiences in the region including commercialization, targeted investments, and technology deployment. RECS alumni (>600) share their CCUS work experience, and facilitate opportunities for networking and getting exposure to the RECS community, which is particularly important for graduate students and early-career researchers. Congratulations, Shadya! 
August 4, 2022: Susan Hovorka gave a lecture on Geologic Storage as part of Carbon Dioxide Management at AIPG Texas section Geodayz meeting at Pickle Research Campus, Austin Texas.
June 30, 2022: GCCC congratulates postdoc Hailun Ni on a successful application to the BEG Proposal Development Assistance Grant Program.
June 6, 2022 Susan Hovorka participated in the National Academy of Science's Committee on Earth Resources (CER) Spring 2022 Meeting on "Basin-scale carbon sequestration".
May 19–20, 2022 (New Orleans, LA) The GCCC participated in the 5th International Offshore Geologic CO2 Storage Workshop. Our own Katherine Romanak was co-chair of the workshop, Dr. Susan Hovorka served as the official host, and both Drs. Tip Meckel and Alex Bump were members of the organizational steering committee. This dynamic group was involved with chairing 5 out of 9 sessions held during the 2-day workshop that included 170 attendees (50 in-person and 120 virtually); they chaired or co-chaired key topical sessions that included the introduction or setting the scene for the workshop (Romanak), a status update on 16 international projects (Hovorka and Romanak), technical aspects of depleted fields (Bump), containment and pressure management (Meckel), and monitoring offshore CCS (Romanak).  GCCC Staff facilitated discussions following each session. On the first day of the workshop, Dr. Alex Bump and Dr. Carlos Uroza presented "Gulf of Mexico Depleted Field Example" within the technical aspects of depleted fields session. Please view the agenda and download presentations or videos from this comprehensive summary of CCS projects developing offshore here.  
May 3, 2022 Tip Meckel and GoMCarb partner Daniel Chen participated in Second Carbon Summit hosted by the Greater Port Arthur Chamber of Commerce, Coverage from the Southeast Texas Business Journal, Volume 13 Issue 3, June 2022 noted that the conference was "three times bigger than in 2019" and that "industry's participation was the icing on the cake". 
May 18, 2022 (New Orleans, LA) The DOE NETL GoMCarb Partnership partners (i.e., GCCC staff and partners from LBNL, LLNL, Lamar University, Aker Solutions, Texas A&M GERG, Trimeric, UTIG GBDS) presented an overview of the previous years' research results. In attendance (remotely and in person) were parties interested in sub-seabed carbon geo-sequestration in the Gulf of Mexico, GoM (e.g., DOE and other federal and state officials/regulators, businesses and the GoMCarb advisors).  The meeting was hosted by Southern States Energy Board and held in conjunction with several other meetings: 1) SECARB Offshore Partnership annual research review, 2) a GoM states and federal regulators workshop, and 3) the 5th International offshore CCS workshop, led by Tim Dixon, IEAGHG R&D Programme General Manager. Attendance at the meetings exceeded expectations because of current high interest in GoM sub-seabed carbon geo-sequestration.
April 4-7, 2022 Tip Meckel and Susan Hovorka attended the 2022 Carbon Capture, Utilization and Storage Gordon Research Conference in Ventura California. Hovorka gave a paper on "Remaining Challenges in Storage of CO2 in Deep Saline Formations"
4/14/2022 Susan Hovorka attended the 1st Symposium on Legal System Changes to Address Climate Change and the Energy Transition hosted by the State Bar of Texas ENRLS and Texas Law Environmental Journal and presented a talk "CCUS in Texas – potential and path forward".
April, 2022: GCCC congratulates postdoc Hailun Ni on being awarded the equipment matching fund by the JSG Equipment Committee to support the purchase of new laboratory equipment for her research project on monitoring CO2 plume migration and trapping with tank-scale ultrasonic sensing.
Sharing our experience of attending the AAPG-CCUS 2022 conference in Houston, TX:
Dr. Susan Hovorka, Dr. Tip Meckel, Dr. Katherine Romanak, Ramon Trevino, Dr. Sahar Bakhshian, Dr. Alex Bump, Dr. Carlos Uroza, and Dr. Hailun Ni from GCCC and Dr. Shuvajit Bhattacharya from TORA recently attended the AAPG CCUS 2022 conference in Houston. GCCC members extensively contribute to this conference by serving on the technical committee, chairing several technical sessions, delivering talks, and presenting posters.
In her luncheon speech, Dr. Hovorka delivered a talk on Getting to Closure and addressed how CO2 storage permanence is tied to careful site selection, well-engineered injection strategy, and a well-designed monitoring strategy. Dr. Romanak made an oral presentation on the Importance of Environmental Monitoring. In her oral presentation, Dr. Bakhshian talked about a hybrid deep learning and process-based methodology to detect anomalies in soil gas monitoring data applicable to CO2 geological storage. Dr. Bhattacharya delivered two talks entitled Predicting Sweet spots for CCUS in Fractured Hydrothermal Dolomites in Michigan, Integrating 3D Seismic Attributes, Seismic Inversion, and Petrophysics, as well as, Overpressure on the Gulf Coast: Identification and Implications for Carbon Storage. Dr. Bump and Dr. Ni presented their research studies in the poster session held on the last day of the conference. Dr. Jiemin Lu, one of the former GCCC members, presented a poster entitled Drill Cores from a Large-Scale CO2 Storage Reservoir at Cranfield, Mississippi. His poster presentation included displaying a collection of sandstone and seal cores of the lower Tuscaloosa from the Cranfield field in Mississippi.
The Risk Assessments session was co-chaired by Dr. Bakhshian and Dr. Ni. Mr. Trevino from GCCC and Dr. Ali Tura from the Colorado School of Mines co-chaired the Subsurface Storage session held on the first day of the conference. The subsurface Storage session on the second day was co-chaired by Dr. Bhattacharya.
Attending the AAPG-CCUS conference was also a rewarding experience for GCCC members from a networking standpoint, as they had a chance to meet with their former graduate students, industry peers, and consortium industry sponsors.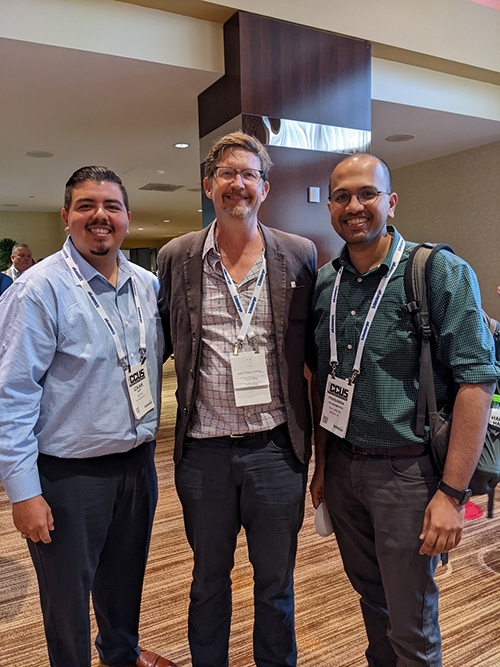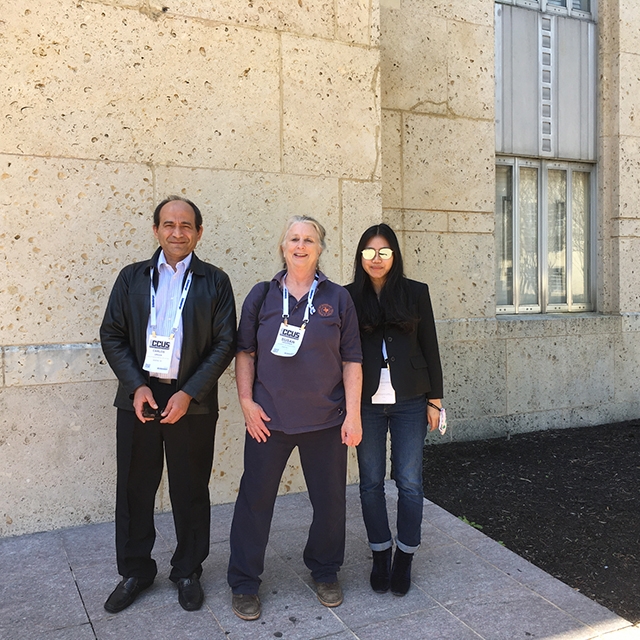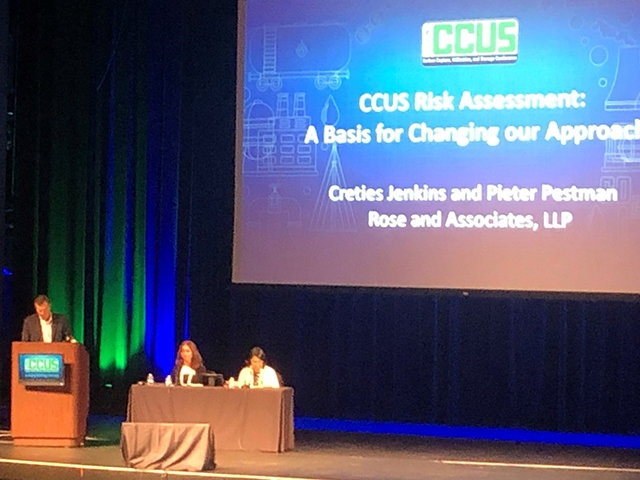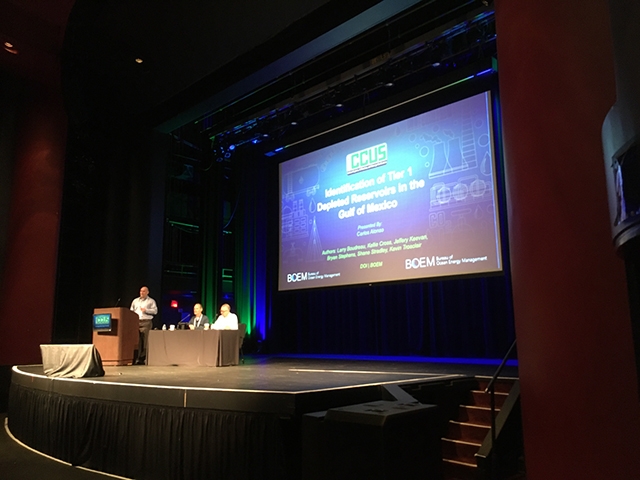 March 16, 2022: Dr. Tip Meckel attended a CCS Roundtable organized by the UK Consulate in Houston, Department of International Trade. Comparisons of UK and US CCS activities was discussed, with a lot of focus on how experience might be shared.  A final report from the working group will be issued soon.
February 25, 2022:  Tip Meckel participated in a US-DOE and India workshop on CCS. Meckel presented on the topic of onshore versus offshore storage in the Gulf Coast. 35 attendees included academic researchers from India and the US, and representatives from US-DOE and their counterparts in India.
February 2022: GCCC congratulates GRA  Shadya Taleb Restrepo on being selected for the RMAG Foundation's Robert M. Cluff Scholarship   The Foundation Trustees were impressed by her academic record, extensive work experience, and well-presented research topic that involves fluid, specifically CO2, migration and long-term storage at the pore-scale level using microfluidic devices with an overall emphasis on CO2 storage
 June 25, 2021: Master's graduate Meliannah Ulfah presented her thesis research to the Indonesian Association of Geophysicists (HAGI).
June 24, 2021: Katherine Romanak was a panelist on the "Industrial Decarbonization & the role of CCUS: a Canadian Outlook" seminar at the North American Energy Dialogue Series.
En español: la información de almacenamiento geológico de carbono
About the Gulf Coast Carbon Center
Research, Technology, and Education for the Geological Sequestration of Carbon Dioxide
Burning fossil fuels (gas, oil, and coal) has measurably increased the carbon dioxide in the atmosphere. Although the long-term consequences of this accumulation are hotly debated, it is likely that it will have negative impacts on both the ocean and climate.
One possible response is to capture carbon dioxide after combustion in industrial settings and reinject it into deep geological reservoirs where it will be retained for long periods of time. This process is called geological sequestration, or carbon capture and storage (CCS).
The Gulf Coast Carbon Center (GCCC) seeks to impact global levels of atmospheric carbon dioxide by
conducting studies on geological sequestration of CO2 in the deep subsurface, focusing on the Gulf Coast,
educating the public about risks that might limit deployment of geological sequestration and measuring the retention of CO2 in the subsurface, and
enabling the private sector to develop an economically viable industry to sequester CO2 in the Gulf Coast area.
Since 1998, GCCC has been a leader in research that facilitates a proactive response by energy-related businesses to reduce atmospheric release of CO2. GCCC has led or is in the process of conducting seven major field research projects to develop effective technologies to monitor retention of CO2 in the subsurface. In addition, GCCC has led a number of diverse projects including estimation of storage capacity, EOR screening and economic assessments, risk of leakage to water resources, assessment of pressure, and whole system integration.
For a news story describing historical field efforts of the Gulf Coast Carbon Center, please click here.
For a list of GCCC media coverage, click here.
For a historical look at how the GCCC has addressed the carbon question, please click here.
---