Permian Basin
Objective, independent, in-depth analysis of Permian Basin oil resources and production capabilities

What is TORA?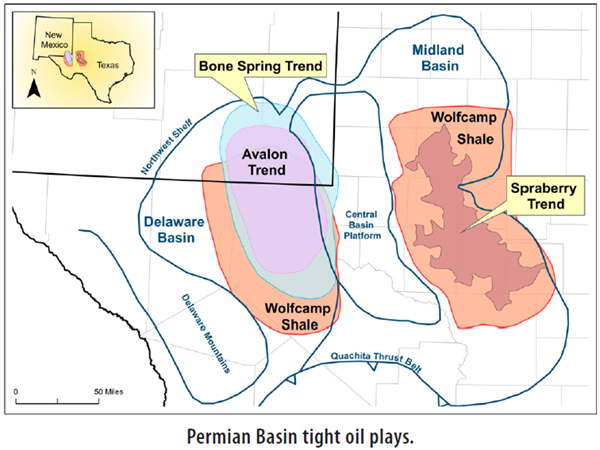 The TORA program is an industry consortium created in 2016 at the Bureau of Economic Geology (Bureau) to conduct a multidisciplinary study of tight-oil-producing horizons in the Midland and Delaware Basins. We build on a century of the Bureau's Permian research and the recently completed national shale-play resource and production-rate study to analyze the complex oil-rich source-rock system.
The Permian Basin, the most prolific oil-producing basin in the United States, with estimates of the tight oil recoverable-resource potential in Midland basin varying from 20 billion barrels to 75 billion barrels on the high end.

Study Challenge
The TORA program aims to narrow the range of recoverable-resource estimates, performing granular integrated assessments of Permian Basin resources and production outlook for industry, sponsors, and ultimately, the public.



The key questions of the study are:
What is the original resource in place (original gas and oil in place)?
What portion of the resource is technically recoverable utilizing current and likely future technologies?
What portion of the resource is economically recoverable given specific technology and economic assumptions?
What are the short-term and long-term production outlooks under various energy prices, costs, technology, regulations?
Team
The study is conducted by our integrated team of geoscientists, petro-physicists, hydrologists, geomodelers, engineers, statisticians, and economists utilizing a 3D geocellular model to help understand and predict ultimate hydrocarbon recovery, economic viability, and play-wide production.

Project Leaders
Scott Tinker, Director BEG
Mark Shuster, Program Director Energy Research
Bill Fairhurst, Project Manager
Svetlana Ikonnikova, Energy Modeler (co-PI)
John Browning, Senior Research Fellow, Engineer
Researchers
Scott Hamlin, Geologist
David Carr, Petroleum Geologist
Bridget Scanlon, Hydrogeologist
Bob Reedy, Hydrogeologist
Robin Dommisse, 3D modeler
Katie Smye, Geologist/Petrophysicist
Ray Eastwood, Petrophysicist
Amin Gherabati, Petroleum Engineer
Frank Male, Engineer
Emilian Vankov, Statistician
Gurcan Gulen, Energy Economist
Casee Lemons, Database specialist
Guin McDaid, ARC GIS specialist
Harold Rogers, Geotech
Scope
TORA studies tight oil formations including the Spraberry, Wolfcamp, Bone Spring, and Avalon relying on comprehensive stratigraphic, petrophysical, fluid, and core description. The initial steps of this multiyear project is to build a detailed interpretive framework. In subsequent years, the framework will be incorporated in multiple research projects targeting different technical issues.
Approach
TORA employs a multidisciplinary and highly iterative resource-evaluation process. This bottom-up approach has been developed and refined in a series of Sloan- and DOE-funded studies on several major shale-resource plays. The Permian Basin process will include the following:
Geology and petrophysics: We interpret the stratigraphic framework using digital well-log correlation and core descriptions, resulting in a basinwide 3D facies architecture used to guide petrophysical-attribute distribution. This framework is also used to calculate resource-in-place using both deterministic and stochastic scenario analysis.

Engineering: We model and match each well-production history before projecting future production. We perform decline analysis using innovative, physics-based in-house software. We use volumetric and machine learning approaches, integrated with geology, to determine the drainage volume and optimized spacing for wells.


Statistical data analysis: We develop statistical algorithms combining various machine learning techniques to reveal relationships in the comprehensive database resulting from the previous steps of the analysis.


Economics: We subject a production outlook developed for each formation to sensitivity/scenario analysis for the full range of expected production outcomes per well, technological and cost improvements, commodity prices, basis differentials (logistics), pace of drilling, well attrition, and lease accessibility, among others.



Water management: We investigate the full-cycle cost of water from drilling, completion, flowback, production, and disposal.

Joining TORA
Membership in TORA is $50,000 annually. Benefits to industry partners include the following:
Detailed insights from our geologic, petrophysical, engineering, statistical, economic methodologies in the form of semiannual update meetings and annual reports
Access to the multidisciplinary TORA research team
Leveraged funding through State of Texas support and other operator contributions
Consortium-supported data-sharing between companies and the Bureau

Interested in joining?
Please let us know if you would like for us to call or email you with further information. To learn more, please contact:

Bill Fairhurst, Project Manager
bill.fairhurst@beg.utexas.edu
512-471-1891

Find out more at www.beg.utexas.edu/tora and www.beg.utexas.edu/research/programs/shale.