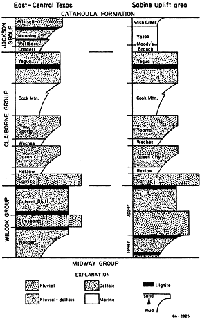 Click on graphic to enlarge.
The goal of this project, completed in 2001, was to develop a coal-gas resource database and investigate the potential for coal-gas resource development in the Wilcox Group in the area of the Sabine Uplift in East Texas. Coal occurrence and lithofacies maps for the region were digitized and converted into a GIS (Geographic Information System) format for inclusion in the U.S. Geological Survey National Coal Resources Data System. These data enable prediction of coal seam thickness, geometry, and continuity and therefore make it possible to define possible areas of coal bed methane production.
These data indicate that the highest potential for production of coal bed methane exists in lower Wilcox coal seams of Panola and Shelby counties. The project is part of an ongoing cooperative effort with the U.S. Geological Survey to develop a better basis for calculating and defining the coalbed methane potential in the United States. Exploitation of coalbed resources for methane generation is an environmentally friendly alternative to coal mining and combustion. This research will provide the Texas natural gas and coal industry with baseline information and may stimulate a new coalbed methane industry in the state.