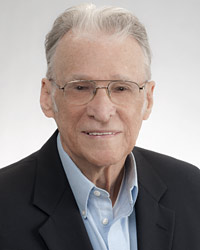 Senior Research Scientist
Bureau of Economic Geology
The University of Texas at Austin
University Station, Box X
Austin, Texas 78713-8924
Mr. Lucia's interests include outcrop and subsurface studies of the origin and distribution of pore space in carbonate rocks and its impact on permeability and capillary properties. His research includes diagenetic and stratigraphic studies, as well as petrographic investigations of rock fabrics. Of special interest is his exploration of the links between petrophysical properties, geologic descriptions, and wireline logs.
Research Interests
Carbonate geology
Petroleum geological engineering
Petroleum exploration geology
Sandstone geology
Education
B.S. Engineering, University of Minnesota, 1953
M.S. Geology, University of Minnesota, 1954
Professional History
Shell Development Company and Shell Oil Company, Houston and Midland, Texas, 1954–1985
Selected Publications
Lucia, F. J., Jennings, J. W., Jr., Rahnis, M. A., and Meyer, F. O., 2001, Permeability and rock fabric from wireline logs, Arab-D reservoir, Ghawar field, Saudi Arabia: GeoArabia, v. 6, no. 4,
p. 619–646.
Lucia, F. J., 1999, Carbonate reservoir characterization: New York, Springer-Verlag, 226 p.
Lucia, F. J., 1995, Rock-fabric/petrophysical classification of carbonate pore space for reservoir characterization: American Association of Petroleum Geologists Bulletin, v. 79, no. 9,
p. 1275–1300.
Lucia, F. J., 1995, Chapter 14, Lower Paleozoic cavern development, collapse, and dolomitization, Franklin Mountains, El Paso, Texas, in Budd, D. A., Saller, A. H., and Harris, P. M., eds., Unconformities and porosity in carbonate strata: American Association of Petroleum Geologists, AAPG Memoir 63, p. 279–300.
Lucia, F. J., and Major, R. P., 1994, Porosity evolution through hypersaline reflux dolomitization, in Purser, B. H., Tucker, M. E., and Zenger, D. H., eds., Dolomites, a volume in honour of Dolomieu: International Association of Sedimentologists, Special Publication No. 21, p. 325–341.
Lucia, F. J., and Conti, R. D., 1987, Rock fabric, permeability, and log relationships in an upward-shoaling, vuggy carbonate sequence: The University of Texas at Austin, Bureau of Economic Geology Geological Circular 87-5, 22 p.
Awards
AAPG Distinguished Lecturer, 2000
AAPG Wallace E. Pratt Memorial Award for Best Paper, 1995
AAPG Wallace E. Pratt Memorial Award for Best Paper, 1994
Distinguished Service Award, West Texas Geological Society, 1993