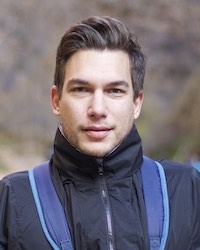 Bureau of Economic Geology
The University of Texas at Austin
University Station, Box X
Austin, Texas 78713-8924
Dr. Iason Grigoratos studied Civil Engineering at the University of Patras (Greece), with a specialization in structural engineering. He later obtained his master's degree in Earthquake Engineering and Engineering Seismology in the University Grenoble Alpes (France) and IUSS Pavia (Italy). Iason is a certified civil engineer in Greece and also worked for a year at IUSS as a research engineer, before starting his PhD there. He spent the last 2 years of his PhD as a visiting Research Fellow at the University of Texas at Austin (USA), where he is now a Postdoctoral Fellow assessing the elevated seismic hazard and risk related to human activities.
Research Interests
induced seismicity, seismic hazard, seismic risk, earthquake catalogs, seismic design, seismic retrofit
Education
PhD in Earthquake Engineering & Engineering Seismology, School of Advanced Studies IUSS Pavia (Italy), 2020
MSc in Earthquake Engineering & Engineering Seismology (MEEES), University Grenoble Alpes (France) & School of Advanced Studies IUSS Pavia (Italy), 2016
MEng in Civil Engineering, University of Patras (Greece), 2014
Professional History
Postdoctoral Fellow, University of Texas at Austin (TX), 2020 - present
Research Fellow, University of Texas at Austin (TX), 2017 - 2020
Consulting Structural Engineer, Grigoratos LLC (Greece), 2014 - present
Consulting seismic hazard modeler for the ITERATE Project, School of Advanced Studies IUSS Pavia (Italy), 2017
Research Engineer in the SASPARM 2.0 Project, School of Advanced Studies IUSS Pavia (Italy), 2016
Intern, ISTerre (Grenoble), 2015
Selected Publications
Grigoratos I, Poggi V, Danciu L, Rojo G (2020). An updated parametric catalog of historical earthquakes around the Dead Sea Transform Fault Zone. Journal of Seismology. https://doi.org/10.1007/s10950-020-09904-9
Grigoratos I, Monteiro R, Ceresa P, Di Meo A, Faravelli M, Borzi B (2018). Crowdsourcing exposure data for seismic vulnerability assessment in developing countries. Journal of Earthquake Engineering. https://doi.org/10.1080/13632469.2018.1537901
Grigoratos I, Dabeek J, Faravelli M, et al. (2016). Development of a fragility and exposure model for Palestine – application to the city of Nablus. Procedia Engineering Journal. https://doi.org/10.1016/j.proeng.2016.08.797