the Bureau proudly presents another season of outstanding technical talks by leading researchers from around the world. 
September 9, 2016 9:00 AM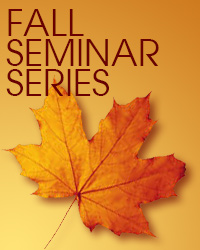 Beginning September 9, 2016
The Bureau is excited to present another stimulating series of techical presentations from leading researchers from the Bureau and around the world. Don't miss these informative and educational talks* from presenters including:
September 9 Michelle Foss
September 16 Jesse Melick
September 23 Frank Male
September 30 Patrick Smith
October 7 Rob Reed
October 21 Gurcan Gulen
October 28 David Maidment (CRWR)
November 4 Peter Eichhubl
November 11 Steve Driese (Baylor)
Friday Seminars are presented at 9:00am every Friday in the Bureau's Main Conference Room (MCR) unless otherwise noted. Come early for refreshments and lively discussion.

*Scheduled speakers may change according to availability and circumstances. Please refer to the current week's seminar schedule for presenting speaker and time.